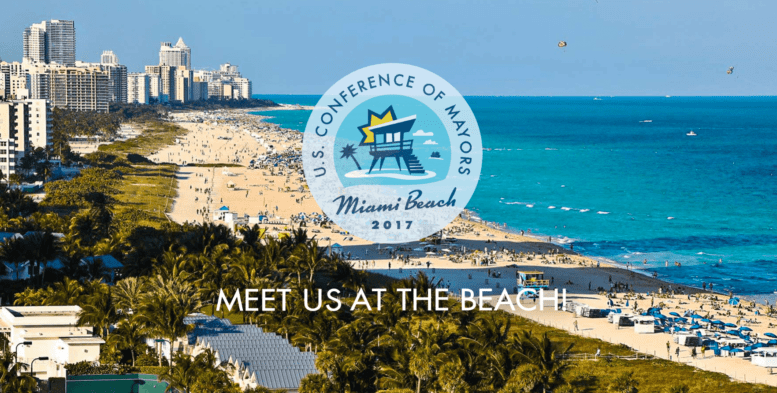 The highly anticipated nonpartisan conference over June 23-26 will bring together mayors from more than 250 cities around the country, featuring a gathering of Latin American and Caribbean officials and a Climate Change Resiliency Panel
Miami Beach will welcome the US Conference of Mayors (USCM) June 23-26, a highly anticipated gathering of mayors from around the country. Miami Beach previously hosted USCM in 1962 and is thrilled to have the conference return to the city to welcome mayors from the US, Latin America and the Caribbean to "meet us at the beach," showcasing the destination's diverse venues and hotels, gourmet dining scene, and an unparalleled lineup of arts and multi-cultural heritage. The annual summer meeting brings together more than 250 mayors from across the country to discuss a wide range of issues and hear from guest speakers that have included the President and congressional leaders.  This summer's conference promises to be the most well-attended conference in the 85-year history of the event – thanks, in no small part, to the spectacular destination attraction of the Host City, Miami Beach.
The gateway to Latin America, Miami Beach is expert at hosting large events and will be the first host city of the US Conference of Mayors to welcome an esteemed group of dignitaries from Central America, South America and the Caribbean to attend the conference, with a special reception on Saturday, June 24. And at the forefront of the climate change discussion, Miami Beach Mayor Philip Levine will host a special Mayors Climate Protection Luncheon and Resiliency Panel for a discussion on how Miami Beach has responded to the threat of sea level rise by investing in upgrades to public infrastructure and adopting zoning and building regulation policies.
"I am thrilled our tropical-metropolis will have the opportunity to host hundreds of mayors from across the country and, for the first time, mayors from cities in Latin America and the Caribbean," said Miami Beach Mayor Philip Levine.  "The City of Miami Beach is like no other—offering a plethora of natural beauty, a high quality of life, a thriving arts and cultural scene, and exhilarating business opportunities. Miami Beach is truly the center for creative collaboration."
From sandy beaches to downtown Miami's quickly evolving skyline, mayors will enjoy the distinctive flavor, tropical heartbeat, and iconic landscape of Greater Miami and the Beaches. Main events will be hosted at Fontainebleau Miami Beach, Perez Art Museum Miami (PAMM), Española Way in Old Havana, Faena Hotel Miami Beach, and 1 Hotel South Beach. With such a diversity of meeting venues and event facilities, Miami is set to raise the bar for business travelers in 2018 with the opening of the transformed Miami Beach Convention Center. The $615-million investment is the anchor to Greater Miami's meetings and conventions industry, which generates an economic impact of nearly $2 billion to the destination annually.
"We're pleased to invite the US Conference of Mayors and delegates from abroad to Miami and the beaches later this month. Our destination is alive and brimming with culture and opportunities for attendees to seek out and explore," said GMCVB President & CEO William D. Talbert, III, CDME.  "We applaud the efforts of Mayor Levine and the City of Miami Beach team for their incredible work organizing this world-class event."
The City of Miami Beach, in partnership with the Greater Miami Convention & Visitors Bureau and the US Conference of Mayors has put together diverse programming for mayors traveling with families with special private guided tours, family-friendly beach sports, heritage neighborhood experiences, and more throughout the destination.
"The U.S. Conference of Mayors is pleased to bring our Annual Meeting to Miami Beach, a city that certainly knows the challenges of climate change," said USCM CEO and Executive Director Tom Cochran.  "As we gather to work on the many issues before our nation's cities such as comprehensive immigration reform, ensuring affordable healthcare access to our residents, making sure the federal budget addresses the needs of working families and tackling issues of public safety, we will continue, as we have for more than a decade, to harness the collective strength of mayors to reduce carbon emissions in U.S. cities across the country."
The United States Conference of Mayors' 85th Annual Meeting will take place June 23-26, 2017 in Miami Beach, Florida.  It will be presided over by Oklahoma City Mayor Mick Cornett and hosted by Miami Beach Mayor Phillip Levine. The United States Conference of Mayors is the official non-partisan organization of cities with a population of 30,000 or larger. Media can register and receive a press badge for the USCM by visiting: https://secure.usmayors.org/registration/.
For recommendations on where to stay, dine, spa, discover, explore, celebrate, propose and so much more in Greater Miami and the Beaches, please visit www.MiamiandBeaches.com.

To learn more about the US Conference of Mayors in Miami Beach, visit www.miamibeachuscm.com.