National YoungArts Foundation (YoungArts) will kick off its 35th anniversary year with National YoungArts Week, the organization's signature program welcoming approximately 170 YoungArts Finalists to Miami. A life-changing experience that supports young artists (ages 15 – 18 years or grades 10 – 12) in the visual, literary, performing and design arts, this program fosters interdisciplinary collaboration and offers guidance to prepare for a career in the arts. Throughout the week, these talented young artists will work with esteemed master teachers and mentors including MacArthur Genius Tarell McCraney, Hip Hop feminist writer Joan Morgan, The Royal Ballet of London's Sara Lamb, celebrated contemporary visual artist Jose Parla, and Academy Award winning filmmaker Doug Blush, among others.
National YoungArts Week will culminate with the organization's largest annual fundraiser, the YoungArts Backyard Ball Performance and Gala, presented by MaxMara and emceed by Tony and Grammy Award-winning actor, singer and director, YoungArts Alumnus Billy Porter (1987 Winner in Theater). During the event, YoungArts will honor director and actress Rosie Perez and director Robert Wilson with the Arison Award, as well as performer, Tony Award nominee, YoungArts Master Teacher and 1997 YoungArts Winner in Theater Tony Yazbeck with the Arison Alumni Award, for their outstanding contributions and indelible impact on the arts. Cochaired by Armando and Margarita Codina and Tracey and Bruce Berkowitz with support from the 35th Anniversary Committee chaired by Sarah Arison, the celebratory evening will honor all 2016 YoungArts Winners and include a series of performance vignettes, directed by Yazbeck, featuring YoungArts alumni including Desmond Richardson (1986 Winner in Dance and U.S. Presidential Scholar in the Arts), Dave Eggar (1987 Winner in Music and U.S. Presidential Scholar in the Arts), India Carney (2011 Winner in Theater, Voice and U.S. Presidential Scholar in the Arts), Andrew Nemr (1997 Winner in Dance), Jake Goldbas (2007 Winner in Jazz), Pascal Le Boeuf (2004 Winner in Jazz and Music) and Riley O'Flynn (2014 Winner in Dance).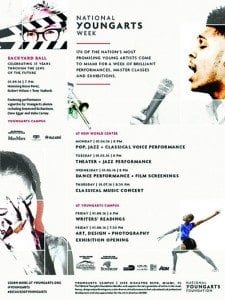 "For 35 years, YoungArts has been offering emerging artists the support and encouragement they need to follow their dreams of becoming professional artists. During this time, we have developed a strong alumni network of more than 20,000 artists, many of whom value the encouragement they received at a young age so much so that they are now paying it forward as YoungArts master teachers," stated Lisa Leone, Vice President of Artistic Programs for YoungArts. "I am thrilled to celebrate the creativity, ingenuity and accomplishments of our remarkable YoungArts Winners and Alumni, and to honor Rosie Perez, Robert Wilson and Tony Yazbeck for providing such shining examples of how to inspire young talent."
Throughout National YoungArts Week, YoungArts Finalists will share their talents with the public at New World Center and the YoungArts Campus. With Performance Sponsor SunTrust, the full schedule follows below and can also be found online at www.youngarts.org/yaw.
For more information about the Backyard Ball Performance and Gala, or to purchase tickets, visit www.youngarts.org/gala.
NATIONAL YOUNGARTS WEEK 2016 SCHEDULE
Monday, January 4 — 8:00 p.m.
Classical, Jazz & Pop Voice Performance
New World Center, Main Hall
Tuesday, January 5 — 8:00 p.m.
Theater & Jazz Instrumental Performance
New World Center, Main Hall
Wednesday, January 6 — 8:00 p.m.
Dance Performance & Cinematic Arts Screenings
New World Center, Main Hall
Thursday, January 7 — 8:00 p.m.
Classical Music Concert
New World Center, Main Hall
Friday, January 8
6:00 – 9:00 p.m. –
Writers' Readings, and Visual Arts,
Photography and Design Exhibition Young Arts Campus
Saturday, January 9 — 7:00 p.m.
YoungArts Backyard Ball
YoungArts Campus
SUPPORT
National YoungArts Week is supported by our National Premier Sponsor Carnival Foundation; Performance Sponsor SunTrust; Miami-Dade County Department of Cultural Affairs and the Cultural Affairs Council, the Miami- Dade County Mayor and Board of County Commissioners; the State of Florida, Department of State, Division of Cultural Affairs and the Florida Council on Arts and Culture; and the City of Miami Beach, Cultural Affairs Program, Cultural Arts Council. Aon is the YoungArts Legacy Master Series Sponsor.
As MaxMara's second year partnering with the organization, the Italian luxury brand continues their ingrained support of arts education by committing to a three year partnership with the National YoungArts Foundation. The Backyard Ball Performance and Gala is also supported by Bacardi and Eventstar Structures. Tickets start at $1,000 and tables are available starting at $10,000. To purchase, please contact Everett Ford at (305) 377-1140 ext. 1808 or via email at eford@youngarts.org.
For more information, visit youngarts.org, facebook.com/YoungArtsFoundation or twitter.com/YoungArts.