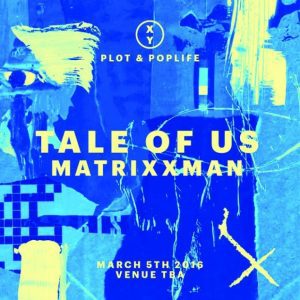 PL0T and POPLIFE invite you to be curious once again, to stray from the monotony of going to the same places and seeing the same people. Part scavenger hunt and part nightlife experiment, X, Y is the result of two premier bon vivants creating something different, something unique, something to shake up the flow of the things.
X, Y is an event series that begins with Tale of Us and Matrixxman on March 5. Each subsequent installment will feature different artists and re-imagine the way it's presented, drawing you to explore the city and fall in love with her all over again.
For more than 8 years, PL0T has been a major contributor to the Underground Dance Music Scene in Miami by promoting events in the cities best venues and presenting a number of international acts to the area, including Seth Troxler, Nicolas Jaar, Dj Tennis and Bob Moses to name a few.
Poplife Presents is a concert production company established in 1999, that is a dream come true for Miami's music subculture. Poplife specializes in producing and promoting events where everyone has one common interest, music! Seeking out new artists, new sounds, different genres, and independent record labels from all over the world, Poplife is about exploring amazing music and creating an amazing time whilst doing so.
Creating their own by coming together: Expect the unexpected, detach from your nightlife routine and awaken your curiosity once again.
To purchase tickets, please visit http://www.residentadvisor.net/