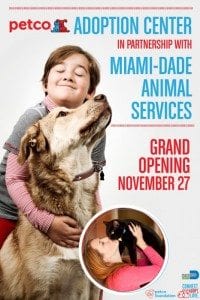 Just in time to give pets a home for every holiday, Miami-Dade Animal Services (Animal Services) will celebrate its partnership with the Petco Foundation with the official grand opening of a new in-store Adoption Center at the Petco store located at 6200 S. Dixie Hwy., South Miami, FL 33143. The grand opening will take place on "Black Friday," November 27, 2015 from 10 a.m. to 7 p.m.
Animal Services and the Petco Foundation invite the community to Think Adoption First and help save lives by adopting one or more adorable cats, kittens, dogs and puppies who await their forever homes at the new family-friendly adoption center located inside the South Miami Petco store.
Adoption fees for pets over four months old are waived as part of Animal Services' current Pets are Priceless promotion until December 31, 2015.  Adopters will only be responsible for the $27 licensing fee for dogs. All pets adopted are spayed/neutered, microchipped, dewormed and given appropriate vaccines.
The grand opening celebration will feature music, raffles and giveaways. Pet adopters will receive a free Welcome to the Family Care Package from Petco with coupons for food, services and supplies for their new addition to the family.
"We are thrilled to be Petco Foundation partners and grateful for the opportunity to continue to save lives by hosting pet adoptions at the South Miami Petco Store," said Miami-Dade County Mayor Carlos A. Gimenez. "We look forward to having our neighbors in South Miami and the surrounding area stop by to connect, adopt and fall in love with a shelter pet."