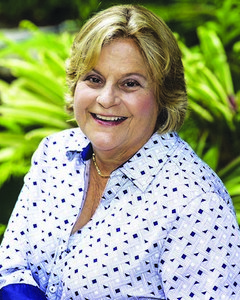 While the general election has been marked by thousands of news stories on the presidential contenders, South Floridians should vote with their local interests in mind.
For voters in Florida's 27th Congressional District – which stretches from Miami Beach to Cutler Bay and includes communities such as the City of Miami, Coconut Grove, Little Havana, Pinecrest, Palmetto Bay, Kendall, South Miami, and Coral Gables — U.S. Rep. Ileana Ros-Lehtinen, Republican, has done much to earn another term representing us in Congress. We join groups such as the Florida AFL-CIO, Dade County Police Benevolent Association, United Teachers of Dade, and numerous others in endorsing Ros-Lehtinen's bid for re-election to Congress.
Ros-Lehtinen's story is South Florida's story. A product of Southwest High School, Miami-Dade College, Florida International University, and the University of Miami, she demonstrates the leadership our local schools can produce. Her ubiquitous presence in our community is a testament to her locally focused priorities. Ros-Lehtinen may work in Washington, DC, but South Florida is always in her heart.
Ileana, whose approachable style is an example for many, is an arduous campaigner and a serious and dedicated legislator. Her Democratic challenger is Scott Fuhrman, a businessman and first-time candidate.
While we may not always agree with Ros-Lehtinen on every issue, she has proven to be an accessible and trustworthy representative of our community.
Ros-Lehtinen's record in office reflects her constituency. Her leadership on issues that are important to South Florida provide a distinct and important voice in Congress. She is a fierce advocate for small businesses, works to address climate change, lends a conservative voice to the cause of LGBT rights, and champions freedom for oppressed people in countries like Cuba and Venezuela. Finally, but crucially, her constituent service is second to none and perhaps the most responsive in South Florida.
Ros-Lehtinen embodies South Florida in a way few others do. In the race for Congress for Florida's 27thCongressional District, we Endorse Ileana Ros-Lehtinen.