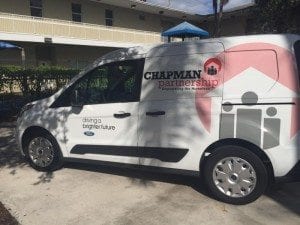 Chapman Partnership will expand their delivery food service and conduct more food donation pickups with a new Transit Connect van donated by Ford.
Part of Ford's and Ford Motor Company Fund's ongoing efforts to address food insecurity, including a nationwide network of more than 50 mobile food pantries, the van is one of six donated to organizations that provide hunger relief services.
The Transit Connect van will help the Chapman Partnership conduct more efficient and frequent food donation pickups and deliver food to more than 90 homeless families living in local hotels. Chapman Partnership receives more than 200,000 pounds of donated food a year.
"Donations such as these are essential for Chapman Partnership to continue to fulfill its mission of providing programs and services for Miami's homeless population so they can go on to lead independent lives," said H. Daniel Vincent, president & CEO of Chapman Partnership. "We are extremely grateful to Ford as well as to Lillian and Gus Machado of Machado Ford for their generosity and support. Public-private partnerships are essential in helping the homeless population in our communities.
Mr.and Mrs. Gus Machado of Gus Machado Ford, longtime supporters of Chapman Partnership, recommended Chapman to be the recipient of the donated van.
Each Transit Connect van offers 103.9 cubic feet of cargo space and is capable of carrying 1,470 pounds, which equals more than 1,100 meals per vehicle per trip.
Ford and Ford Fund, the company's philanthropic arm, help strengthen communities by assisting hunger relief agencies year-round. The five new vans join Ford's nationwide network of more than 50 mobile food pantries that have distributed more than 6 million meals in the past five years.
"The first step in creating a better world is helping to fulfill the most basic needs of our neighbors,"said Janet Lawson, director, Ford Motor Company Fund. "More than 48 million Americans live in fear of going hungry each day and these vehicles will deliver meals – not just during this season of giving but throughout the year."
Since 1995, Chapman Partnership has admitted more than 100,000 homeless people, 20,000 of which were children. This past year, they provided 800,000 meals to homeless children, men, women and families and has placed 322 residents in jobs with 284 local employers.
The five Transit Connect vans will be delivered at events being held during a five day span the week of Dec. 7. For pictures of the event held in Miami, please click here.
About Ford Motor Company:
Ford Motor Company, a global automotive industry leader based in Dearborn, Mich., manufactures or distributes automobiles across six continents. With about 195,000 employees and 66 plants worldwide, the company's automotive brands include Ford and Lincoln. The company provides financial services through Ford Motor Credit Company. For more information regarding Ford and its products worldwide, please visit www.corporate.ford.com.
About Chapman Partnership:
Since 1995, Chapman Partnership has had more than 100,000 admissions including 20,000 children in Miami-Dade County and a 64% success rate of moving homeless men, women and families to self-sufficiency. Chapman Partnership operates two Homeless Assistance Centers with 800 beds located in Miami and Homestead. We help the homeless by providing a comprehensive support program that includes emergency housing, meals, health, dental and psychiatric care, day care, job training, job placement and assistance with securing stable housing. At Chapman Partnership we empower homeless men, women and children to build a positive future by providing the resources and assistance critical to growth and independence. Chapman Partnership is the private sector partner of the Miami-Dade County Homeless Trust