Recycling Cell Phones To Save Gorillas
Endangered African gorillas and cell phones have more in common than you might think. All cell phones contain an ore, Coltan, mined in gorilla habitat. That's why Miami Palmetto Senior High's Science Honor Society collects old cell phones for recycling as part of the Saving Species Go Bananas Challenge. The school club previously won first place in 2015 and 2013, and placed second in 2012 in this national contest sponsored by the Cincinnati Zoo.
"Reducing the demand for Coltan will help save these animals and their habitat, which is the main reason we are involved," said Pamela Shlachtman, chair of the science department at Miami Palmetto Senior. "Recycling cell phones also reduces the potential for hazardous waste to leach into the soil and groundwater if phones are sent to landfills, since they contain lead, mercury, cadmium and arsenic."
As a bonus, the winner collects a cash prize. Last year, Palmetto Senior's Science Honor Society won the top prize of $4,000 for collecting more than 2,000 phones. Last year, the winnings helped fund Science Honor Society's Envirothon team's travel to the national competition.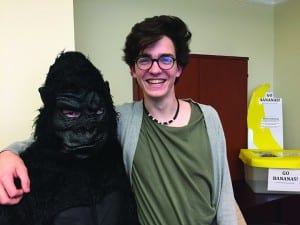 Because there is an extra prize for the most creative campaign, Palmetto High junior Reed McMaster and sophomore Brien Culhane shot a short promotional video starring Palmetto Bay Mayor Eugene Flinn. The video can be viewed at www.palmettohighptsa.org.
"I'm an animal lover," said Reed McMaster, the scriptwriter who played the part of the gorilla. "So I want to help protect the environment they live in. The video turned out even better than we expected and Mayor Flinn was a lot of fun to work with. "
Collection boxes are located at the Village of Pinecrest Community Center, Palmetto Bay Village Hall and Ms. Shlachtman's room at the Palmetto High. This year's contest collection ends March 25.