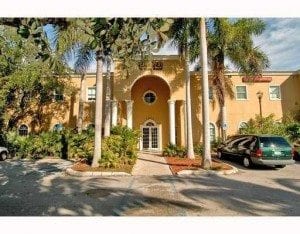 The property known as Premier Plaza, located at 7875 SW 104 Street, Miami is getting a facelift. Stringer Realty Services, Inc. will be coordinating the upgrades for the new owner who purchased the property in October.
Wayne E. Stringer (Stringer Realty Services) and Marc H. Pearl CCIM (Pearl Real Estate Advisors), longtime friends and business associates teamed up to advise the real estate investment group of Tungsten International Investments LLC in the acquisition, modernization, leasing, and management of this attractive asset.
Premier Plaza is well-situated just off US 1 and State Road 826 in the Pinecrest-Kendall area. Equidistant between Jackson South Hospital on SW 152 Street and Baptist Hospital of Miami on Kendall Drive, the space is ideal for medical offices and as a general office facility.
The two-story structure is a boutique office building with approximately 20,000 square feet of space, leased and occupied by quality tenants like South Florida Endoscopy Center, Georgina Merlo DMD, Century 21 Premier Realty and The Academy (who will be working on a buildout of their space in time for an April 2016 opening) among others. Constructed in 1999, it is sited on 1.05 tree-studded acres with ample parking. There is onsite property management and leasing via Stringer Realty Services and Pearl Real Estate Advisors. Although almost completely leased, there are a couple of luxury office suites still available.
Premier Plaza is currently undergoing a number of capital improvements including a new roof, landscaping upgrades, trimming the property's mature oak trees, repainting of the building, and resurfacing the facility's large parking lot. Additionally, certain common area improvements including video and electronic card access security and a new electronic directory.
After a distinguished career managing and leasing properties, Wayne E. Stringer founded Stringer Realty Services in 2012 for the purpose of specializing in Medical Real Estate investment sales, management and leasing. He has 25 years of extensive and diverse commercial and medical real estate experience, including market research, site selection, acquisitions and dispositions, lease negotiation, property management, construction management, and financing. He has been an active Florida Real Estate Broker since 1990 and a licensed Florida General Contractor since 1992.
Mr. Stringer currently handles the marketing and leasing of the 70,000 square foot Coral Gables Medical Plaza, the 110,000 square foot One 7000 Place medical office building, and the 40,000 square foot Deering Medical Center.
Marc H. Pearl founded Pearl Real Estate Advisors in 2009 as a boutique commercial real estate firm serving its clients with investment sales and leasing advice. Mr. Pearl brings an extensive and diverse background, offering his clients professional representation in their commercial real estate interests, including market research, site selection, lease negotiation, pro-forma projections and investment analysis. He has been an active Florida Real Estate Broker and real estate investor in south Florida since 1988.
Both Mr. Stringer and Mr. Pearl are Miami natives who specialize in medical and general office acquisitions and leasing.
For more information, contact Wayne E. Stringer, Your Medical Real Estate Expert, at Stringer Realty Services, Inc. (305) 256-1261 or Marc H. Pearl at Pearl Real Estate Advisors (305)968-5816.