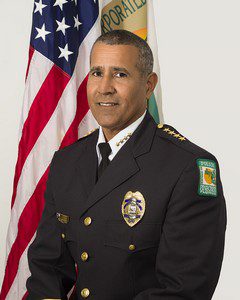 Recently there has been a heightened awareness of crime in the Village, which has caused concern among residents, some of whom seemed genuinely unaware of the extent to which crime occurs in Pinecrest. Even an informal study of the nature of crime, in Pinecrest and elsewhere, brings one to the conclusion that it is not static but rather fluctuates from year to year.
Pinecrest police officers witness the anguish of victims first hand and share in their frustrations when responding to and investigating crimes. The police department is working diligently to reduce burglaries and I am optimistic that residential burglaries will begin a downward trend into the future.
My commitment to residential burglary prevention became evident when, in 2012, I readjusted the focus of our personnel from one heavily favoring traffic enforcement to a more balanced approach with greater emphasis on crime prevention. This began with the creation of a Crime Suppression Team whose primary purpose is residential burglary prevention. This specialized unit is able to respond quickly to in-progress burglary calls and have made arrests in two instances soon after the burglary occurred.
In addition, I established a dedicated traffic unit to relieve patrol officers of the primary responsibility of traffic enforcement, as was the tradition since incorporation. The strategy affords patrol officers significantly more time for proactive crime prevention, while maintaining an indispensable traffic law enforcement component, which research has shown saves lives.
Much of the awareness of crime in the Village is attributable to the Police Department's transparency, which is a hallmark of my administration. For the first time in our history, we contracted with Crimemapping.com, an online portal that is dedicated to helping us provide Pinecrest residents with valuable information about crime activity by neighborhood, with the goal of assisting in reducing crime through a better informed citizenry.
In 2012 there were only six Neighborhood Crime Watch groups, today we can boast that we have over 20 neighborhood watch groups in the Village, which bodes well for our future safety and security. Our Facebook page and Twitter feed highlights a recent capture in Pinecrest of a suspect wanted for attempted murder in another jurisdiction because an alert citizen reported suspicious behavior to the police.
Another new initiative that I started involves home visits by patrol officers for the purpose of delivering crime safety tips. Since we began this education and awareness campaign, police officers have provided 8,610 crime prevention tips to residents and business owners.
I accepted the risk that increased awareness would alarm some residents who were previously unaware of the crime levels in Pinecrest. I know that by being honest we build trust and that trust strengthens our relationships, and believe in my heart that strong police community relations is the best defense against crime. Safeguarding lives and property is not merely a mantra of policing, it is my calling and what I have dedicated 37 years of my life to doing. Never has that commitment been stronger than when I became Chief of Police.