It's all over! It's all over! When all the laughter drowns in sorrow, the planes have flown to deliver their soggy cargo back to drought-riddled California, the artistas have returned flush with dollars to galleries everywhere, and our beloved gridlock has calmed down – okay forget that one – Miami once again becomes the sleepy hamlet we are all accustomed to. The rain will now hopefully subside allowing the sun to set earlier, and we will return to a simple existence – happy hours, Bikram Hot Yoga, south on US1, north on Biscayne, into our driveways and garages.
The imaginary war on Christmas continues as we all happily celebrate Christmas, with nativity scenes aside Hanukkah menorahs, brightly lit displays of color, and last minute shopping. Our lives return to the old normal.
The post-Basel weeks are the end-of-the-year, breath-catching moments where we have holiday parties, shop frantically, welcome home our children, watch 47 bowl games played between 6-5 team, and scour the Herald for the locations of Christmas lights. With this is mind, some return to bygone times may be deeply appreciated. Here are three suggestions.
Hopefully, small treasures like Mainzer's (12113 S. Dixie Hwy) will provide you with the red cabbage, potato dumplings, Marzipan Stollen, Lebkuchen, and chocolates necessary for a good and proper Weihnachten. If you have visited before in their 40-some years of South-Dade business, they may indeed remember you. The Mainzers' will call you by name and remind you why small businesses can be utterly memorable in the same way that big box retailers may give you massive migraines. Go here for your German, Swedish, Danish, Dutch, and northern European delights.
European Corner at 5889 SW 73rd St. across from Deli Lane in South Miami is another twenty-something-year-old simmering resource well-poised to provide a-ha happiness. Here, the treats are Venezuelan and
traditional.
Hallacas, made from chopped green peppers, onions, raisins, meat, and chicken, and wrapped in banana leaves before being steamed are one of their specialties. Hallaquitas – littler Venezuelan tamales – and crazily delicious ham, olive, and raisin breads are among the other hundred of old school treats chilling in a tiny spot offering a table or two with an extraordinary view of the Winn-Dixie parking lot. If you are there with kids, they will enjoy watching the vigilant South Miami Parking Authority do their thing – South Florida's finest ticket purveyors. Spanish is helpful at the European Corner but will not help you with the Parking Authority.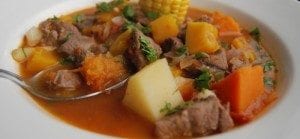 Last of the holiday trio is the lovely Pamela, a nondescript Chilean restaurant delicatessen located since 1979 at 8469 Bird Road. Drop your kids at Santa's Enchanted Forest, and flee into Pamela for the ultimate lovely escape. You can comfort yourself with an empanada filled with clams and cheese, the pastel de choclo – corn pie baked with all sorts of delicious morsels, and a nice bottle of wine. However, save room for desert, especially a slice of their crazy, towering dulce de leche cake.
Try these three places, and soon, you may feel normal for a moment before the New Year.