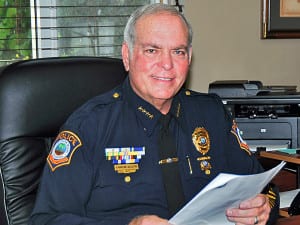 Accentuated by a presiding moniker that reads in gold letters "We who labor here seek only truth" the ample antique Gothic style court room on the fourth floor of the downtown Miami-Dade County Courthouse was empty but for the attorneys, court reporter, city clerk, and plaintiff when Miami Dade Circuit Court Judge José M. Rodriguez announced his damages verdict. He awarded former South Miami Police Chief Orlando Martinez de Castro nearly a half million dollars in lost wages after a near three-year legal battle against the city.
"This is the beginning, not the end," said the emotional former chief immediately following the verdict.
"They have de-stroyed my character, my career of over 42 years…they blemished it between the blogs, the stories, the fliers, and the lies. At the end of my career instead of being a rightful ending it's been a dirty ending so I will pursue it to the end." There are currently three pending defamation law suits filed by the former police chief against the City of South Miami and Mayor Philip Stoddard.
The wrongful termination lawsuit had already been won by Martinez de Castro when the judge determined that the city violated Florida Law and the Constitution by dismissing him for allegedly holding two conflicting positions simultaneously: that of chief of police and acting city manager. He had been fired in a city commission meeting August 14, 2013 by a majority vote resolution with Commissioner Walter Harris, Commissioner Bob Welsh, and Mayor Stoddard voting in favor of dismissal.
The ultimate bench trial was brought on after City Attorney Thomas Pepe made inappropriate mistrial opening remarks during the initial jury trial and all parties agreed to proceed with a bench trial. The verdict allows for 4.75 percent interest as well as approximately $300,000 thus far in legal fees.
"After listening to the testimony I believe he is entitled to the clothing and car allowance," said Judge Rodriguez. "He is not entitled to unemployment or the loan. He also performed tasks in parking (management), allowing for a salary of $434,731.85 award."
The final five hours of deliberation were mainly about how much Martinez de Castro would receive, with city expert witness CPA Edward Sachs and attorney for the plaintiff Paul Totten sparring on figures. The contentions were over the questioned continued oversight of the parking department, compensatory clothing and car allowance, a calendar versus fiscal year summary, as well as monies related to a surgical procedure and unemployment wages entitlement.
A brief moment of levity in the otherwise quiet and tense court room was realized when Sachs accused Martinez de Castro of "double dipping" in his request for unemployment compensation as well as lost wages. Totten told Sachs he "appreciated the double dipping Seinfeld reference" (referring to an episode of the former television comedy show) and Sachs chuckled in mutual appreciation of the comedian's take on the term but corrected Totten that double dipping was actually accounting terminology.
"I thought the judge awarded more damages than was warranted by expert testimony" said City Attorney Pepe in a subsequent interview announcing he would recommend an appeal to the commission.
Mayor Stoddard responded to a call moments after the verdict and said the judge's decision was full of contradictions. "We believe in the city's case and we plan to appeal. The judge awarded him what he was not entitled to… car, uniforms… those are professional expenses not personal compensation." Stoddard also said there were two attempts by the city manager to buy out Martinez de Castro's contract following his dismissal which were both denied.
In terms of why Martinez de Castro will continue the fight with his ongoing lawsuits against the city, he said "it is important to show that they terminated me wrongfully. I was an honorable chief of police and they tried to destroy me morally and character wise… this is the heart of the case."
Martinez de Castro said he has applied for over 20 jobs since his firing, five for area chief of police posts and has gotten as far as making the top 10 in three. He hopes to conclude his career in law enforcement and stay in Dade County to be near his two sons, daughter, and grandchildren. He is currently consulting through his company and preparing for future litigation.
The formal decision by the city to seek an appeal will be decided in an advertised agenda for a shade meeting, special city commission meeting, or during an imminent regular city commission meeting by majority approval. Stoddard said they will weigh out the principle along with the practical as to whether or not to continue to invest time and resources in the case but says he believes it is worth appealing.