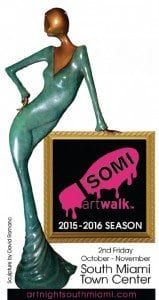 SOMIartwalk kicked off its 2015-2016 monthly art event by marrying visual and performing arts to the art of fashion. The second Friday of each month, from October to March, South Miami's tree-lined streets, retail and dining establishments are graced with artworks and live music. This year, the aesthetics of fashion, design and art are combined into one theme emphasizing the wealth of specialty boutiques that flourish in the South Miami Town Center. Art is fashion. Fashion is art.
Perhaps Coco Chanel said it best, "Fashion is in the sky, in the street; fashion has to do with ideas, the way we live, what is happening."
Artwalk coordinator and publisher of SOMI Magazine, John Edward Smith, is the visionary behind the community-based event. For years he has volunteered his time and expertise as a professional event planner to bring artists and musicians together with area merchants to showcase the unique qualities of South Miami's shopping and dining district.
"The genius of the South Miami event is the focus on our area's trendy boutique and dining district with local visual and performing artists, and most importantly, involving our local students to make a very special family-oriented "Hometown" Friday evening art event," said Smith.
David and Marianne Russell, owners of arango and managers of the Arango Design Foundation (a non-profit dedicated to modern design aesthetics and arts education) featured the acrylics of artist Lynne Golob Gelfman in their new shop on Sunset Drive. Her work hangs in many prestigious galleries and museums including the Pérez Art Museum Miami and MOCA, as well as the Smithsonian.
Participating in Artwalk for the first time, Marianne Russell said of the experience, "We met a lot of new people that evening and perhaps what was most interesting to us was the fact that many families with young children came by to see the store and to enjoy Ms. Gelman's art."
Lucy Agnes Couture exhibited landscapes by Colombian-born Federico Carosio III. The artist is renowned for his Florida landscapes rendered in the photorealism style, as well as his abstract paintings and watercolors. Owners Jacques Morera and Missy Freygang's shop creates clothing that is elegant, simple and timeless. Currently, they are featuring one-of-akind dresses made of silk and vintage Japanese kimonos for sale at the store located in the Plaza 57 building on SW 57 Court. Jacques designs these lovely dresses, one of which was displayed on a mannequin on the sidewalk in front of the store for the event.
"This was our first Artwalk. It was wonderful, a beautiful night with very nice energy," said Missy.
Isabel Merritt owner of Isabel Fine Home Accessories at the "blue mall" on Red Road has truly embraced the concept of Artwalk and understands the kind of synergy that comes from highlighting local artists in her shop. By pairing artwork with her unique accessories, Isabel provides aesthetic inspiration to her patrons and brings new clientele into the shop. As John Edward Smith said, "She gets it." Pastel artist Lynne Libby's vibrant landscapes were on display.
VIGI Miami on Red Road features fashion that is both classically timeless and hip. As part of the fashion is art theme, owner Vigi showcased her clothing line and also placed a mannequin on display on the sidewalk.
Other venues included RESPICE Independent Republic displaying their independent lifestyle brands and work by artist Christina Whitney; Si Belle French Boutique with designs by owner Vina Richard; and Bhoom Shanti hosted artist Melissa Addams and Art by Catania, together with Henna tattoos. The Wirtz Gallery at the First National Bank of South Miami exhibited photographs by Venessa Monokian titled "Knife's Edge;" the Doc Thomas House at the Tropical Audubon Society featured watercolorist Terry Arroyo Mulrooney; and The Archive Fine Art & Collectibles displayed Marcela Garcia Bonini's new painting collection, "Urban Landscapes."
The SOMI Sidewalk Showcase featured the South Miami Middle School Jazz Ensemble under the direction of Francisco Williams at the entrance toThe Shops at Sunset Place. Members of the South Miami Senior High School JROTC served as Artwalk Ambassadors, distributing Artwalk maps and assisting visitors.
"This is what I think makes living here so interesting, a community-based event that utilizes the town center and gets people to interact on the street. I envision a time when we will have art and music on every corner. My thanks to everyone who hosted and participated in Artwalk. This is the community's event to grow and enjoy," said John Edward Smith.
Mr. Smith thanks the Host Sponsors: arango, Bhoom Shanti, Isabel Home Accessories, Lucy Agnes, RESPICE Independent Republic, Si Belle French Boutique, The Art & Fine Collectibles, the Tropical Audubon Society at the historic Doc Thomas House, VIGI Miami, Wirtz Gallery at the First National Bank of South Miami, and 3Eleven Media at the Crossroads Building. Co-sponsors include the City of South Miami, ChamberSOUTH and SOMI Magazine, First National Bank of South Miami, Team FootWorks, JES Communications, Massage Envy, My Cotorra, Splitsville Luxury Lanes, The Dog from Ipanema, the Shops at Sunset Place, Town Kitchen & Bar, and 3Eleven Media.
Want to learn more or volunteer for Artwalk? Contact John Edward Smith at 305-665-2838 or jes_somi@att.net. Visit at www.Artnightsouthmiami.com.