On Sunday, Sept. 11, the (UU Miami) launches its church-wide outreach campaign to Nurture All Families in Our Multi-Faith World with the kick-off of its Religious Exploration (RE) program for children and youth and a Sunday service Message for These Troubled Times: Awaken "Genius" in Our Children and Youth.
Families will be welcomed to begin the new RE year with an exciting array of classes geared toward peace-building, conflict resolution and an exploration of different faiths, all age-appropriate for children and youth.
The "Coming of Age" program will support students 13 or older to develop own credo, or personal theology, through the year and encourage them to envision the people they want to become and the world they want to co-create. Students aged 9-12 are invited to participate in "Sing to the Power, " a song-based curriculum that affirms our UU heritage of confronting powers and structures of evil with justice, compassion, and the transforming power of love. Children 4-8 years-old will follow "Signs of Our Faith: Being UU Every Day" that encourages them to see themselves as young leaders of their faith. Child care is offered every Sunday for infants and toddlers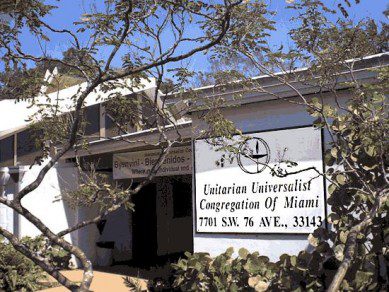 The 11 a.m. Sept. 11 Sunday service message "Message for These Troubled Times: Awaken "Genius" in Our Children and Youth" will provide parents and caregivers with ideas and guidance for their children and youth, who may be especially troubled by the recent spate of violence in our country and around the world.
"Awaken Genius" highlights the notion that in every young heart beats a genius, a special "uniqueness," that the world needs to heal, and that the most important antidote to the current spate of ills resides in the strength of community – people of good will joining hearts and hands to awaken.
A "Health & Wellness Fair" will follow the service on Sept. 11 featuring screenings by Baptist Hospital personnel and numerous vendors offering samples and education for the entire family.
For more information, visit UU Miami online at www.uumiami.org or visit us at 7701 SW 76th Ave., Miami, FL 33143.
The Unitarian Universalist Congregation of Miami (UU Miami) is a progressive faith community that celebrates diversity and the rights of every one and encourages the pursuit of personal and world peace.