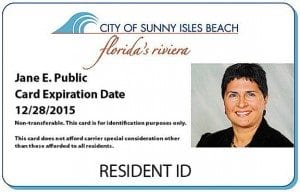 Wristbands for the October 30 & 31 Booogie by the Beach are on sale for $5 with a SIB Resident ID Card and $10 without the card. Avoid long lines at the event by purchasing the wristbands now at Pelican Community Park or at the SIB Government Center.
If you are new to Sunny Isles Beach,you should know that the SIB Resident ID Card will enable you to receive reduced prices for city special events, cultural event trips and much more. This SIB ID Card also gives your listed family members the reduced resident rate for programs and activities around the City. Get a card for each person 5 years and older in the household.
This free card may be obtained at the Sunny Isles Beach Government Center (18070 Collins Avenue) from Monday, Tuesday and Friday 8:30 am – 6:00 pm, Wednesday and Thursday 8:30 am – 8:00 pm, and Saturday 9:30 am – 6:00 pm. The card is also available at Pelican Community Park (18115 North Bay Road) from Monday – Saturday 8:30 am – 8:30 pm and Sunday 8:30 am – 4:30 pm. Please bring photo ID with current Sunny Isles Beach address and proof of residency in your name such as: FPL or other utility bill, vehicle registration, or a copy of lease and letter from landlord if you are a renter.