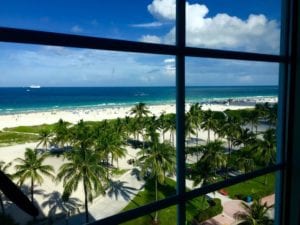 Imagine paying 1936 rates to stay at the same glamorous hotel where Marilyn Monroe, Frank Sinatra, and Elizabeth Taylor played on Miami Beach – and where present-day stars such as Janet Jackson, Jimmy Fallon, and Ellen DeGeneres go for posh accommodations and fine dining.
Dream no more. Through August 31, The Tides South Beach on Ocean Drive is celebrating the hotel's 80th anniversary with a one-night, original "opening-day rate" of only $1.50, when booking two nights at the regular rate. It is a perfect way for Greater Miami residents to enjoy a "stay-cation" right here in their hometown.
Known to locals as the "Diva of Ocean Drive," Tides South Beach was met with great celebrity from the first day it opened to the public in 1936. This summer, guests are invited to turn back the clock with this historically low-rate package, which includes table-service breakfast each morning at the hotel's terrace restaurant (a $25 value for each guest) and a fee-free beach day package that includes complimentary beach chairs, beach towels, and an umbrella. Book a three-night stay through Sept. 30 directly with the hotel by visiting www.tidessouthbeach.com – and the third night is just $1.50 (use promo code "1936." Restrictions apply).
The Tides South Beach is a stunning Art-Deco style hotel featuring guaranteed ocean-views from every room and spacious top-floor suites. At the time of construction, it was the tallest building in the City of Miami Beach, and today remains the tallest building in the city's historic Art Deco District. All 45 guest rooms range in size from the entry-level Oceanfront Studio at 550-square- feet, to the luxurious top floor Tides Suite at 2,200-square-feet.
Located in the heart of the Ocean Drive entertainment district, the hotel is just steps away from the best restaurants, shops, nightclubs – and, of course, the shimmering waters of the Atlantic Ocean. This stately property offers an oasis of serenity amidst all the excitement of South Florida's most popular tourist area.
Nowhere is the hotel's style and sophistication more evident than upon the spacious stepped Front Terrace, where guests enjoy one of South Beach's favorite pass times – people watching. Visitors also enjoy fine dining at The Tides Restaurant & Terrace offering both indoor and outdoor seating. This summer, the professional staff of the hotel's restaurant has launched an exciting new menu.
During August and September, Tides South Beach is participating in Miami Spice Restaurant Month with delectable prix-fix lunch and dinner menus, for $23 and $39, respectively.
For general information regarding The Tides South Beach, visit www.tidessouthbeach.com or call 305-604-5070.