The Minority Chamber of Commerce will offer a road map to success through leadership skills building and by offering business development tools and networking at the 2017 Women's Leadership Conference and Luncheon, March 17 at the Intercontinetal Miami at Doral, 9 a.m. to 1 p.m.
The roster of high-profile guest speakers at MCC's annual conference has just grown to include former NASA astronaut Franklin Ramón Chang Diaz, a Costa Rican-American mechanical engineer, physicist who will address the group on "Being a Leader in America."
"The mission of this high-profile half-day conference is to provide women with the developmental tools they need to continuously advance their businesses and careers," said Chamber President Doug Mayorga.
Attendees will benefit from a variety of learning opportunities including discussion of new ways to advance and enhance their businesses, and by getting key information about services and resources provided through the Minority Chamber.
"The number of women creating new businesses continues to rise, as does this group's collective demand for contracts, resources, finance, and personal development," Mayorga continued. "The Miami Conference has really struck a chord with women seeking new ways to expand their small businesses and abilities, and we strive every year to exceed their expectations."
March 2017 Conference Agenda:
9:00 am – Registration
9:10am – Opening remarks: MCC Chair Paul Lester, Legal Committee of the Minority Chamber
9:15 am – Overview of Chamber: President & Founder Doug Mayorga, with brief presentation about Microsoft development services offered through the Chamber
9:30 am – Panel Forum: "Leadership in Business" with CEO Champagne Creative Development Nicole Champagne, CEO Gloval Display Joan Barrientos, and Executive eMerge Americas Nelly M. Farra
10:45 am – Panel Forum: "Leadership in Education & Public Services" with CEO Florida National University Dra. Maria Regueiro, Center Director of Miami Job Corps Mary Geoghegan, and Sr. Section Chief of MIA Facilities Management Ana Finol
11:45 am – Networking: "The New High-Tech" presentation for pregnant women
12:00pm – Honorable Guest Presentation: Franklin Ramon Diaz, former NASA astronaut, "Be a Leader in America"
12:15 pm – Keynote Address: "Education in America" by Dra. Maria Cristina Regueiro- CEO Florida National University
12:30 pm – Recognition Award: Senior Section Chief of MIA Facilities Management Ana Finol, with "The Excellence in Public Services." Ms. Finol manages $20 million in contracts and 60 contractors, architects, interior designers, and construction managers. Special thanks to Ms. Finol for helping to build one of the greatest airports in the U.S.
12:45 pm – High-Tech Conference: "Digital Marketing for Women in Business," by Digital Marketing Group's Jeff Miller
1:00 pm – Closing Remarks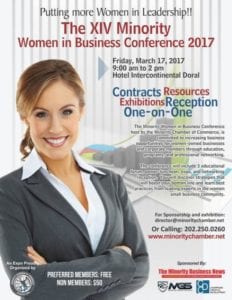 Admission to the conference, with lunch, is free for Preferred Members, $30 for regular members; and $50 for non-members. The first 30 non-members to attend will receive a complimentary one-year subscription of Office 365 from Microsoft (for five users) with a value of $300.
Please RSVP now by contacting Maria Loaisiga at director@minoritychamber.net or by calling 786-406-2190.
About Women's Leadership Conference 2017: The annual Women's Leadership Conference in Miami provides women from all walks of business life with entrepreneurship education and opportunities. Over the past decade, as public officials and corporate executives have played an increasingly important part in the conference, the event has grown in size, scope, and reputation – and continues to draw a devoted following.
About the Minority Chamber of Commerce: MCC's mission is to develop micro-small business women into leaders through empowerment, training, and connections. Since 2000, the Chamber has actively engaged minority micro-small business owners, professionals, and policymakers in support of public-policy solutions. The conference delivers information and resources to members and continues to drive a strong economy. For information visit www.minoritychamber.net.