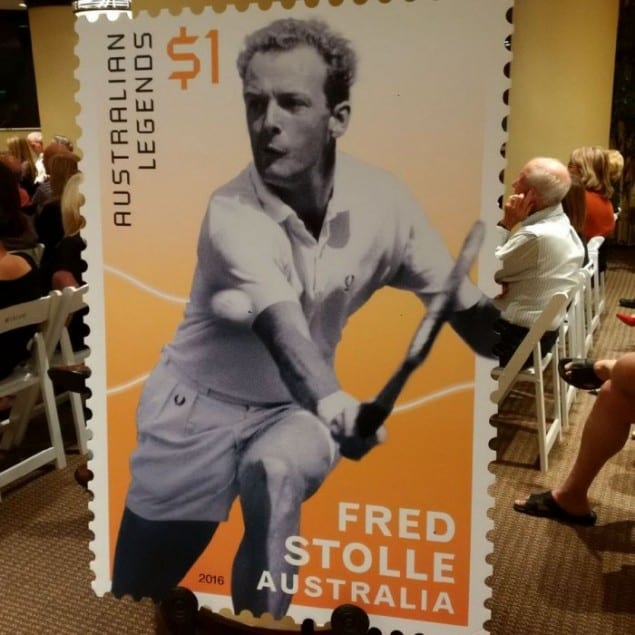 It has been quite a career for Tennis Star and TV Commentator Fred Stolle. Friends and fellow residents at Williams Island joined for a tribute this month in the 3000 Building at Williams Island to honor his career and recent awards.
Fred Stolle, the 18-time winning Grand Slam Champion, was recently honored by his native country of Australia with a 2016 stamp as part of the Legends of Singles Tennis. He also received an award at Roland-Garros commemorating his 50th anniversary of winning the French Open in 1965.
Mr. Stolle met with Williams Island residents and spoke of his recent awards, grand slam titles and how he began in tennis. Williams Island Director of Tennis Carlos Triana presented Mr. Stolle with a tribute award on behalf of the Williams Island Tennis Club.
Ranking seventh on the all-time list of champions, Mr. Stolle was a member of Australia's Davis Cup teams from 1964 until 1967, where he won 13 of the 14 matches while playing on four victorious teams. He won the men's singles title at the U.S. Open Championships in 1966. He is the male record-holder for the most post-war finals appearances at Wimbledon.
Stolle's dynamic doubles skills are reflected in his 16 doubles titles, including the U.S. Open men's doubles, two U.S. Open mixed doubles, two Wimbledon men's doubles, three Wimbledon mixed doubles, two French Open men's doubles plus three men's doubles and one mixed doubles at the Australian Open.
He is a member of the International Tennis Hall of Fame, Australian Tennis Hall of Fame and the Australian Sports Hall of Fame. He was made an Officer of the Order of Australia in 2005.
A native of Hornsby, Australia, Fred's career continues to be a smashing success. He is an international television commentator and analyst. He and his lovely wife Pat, make their home at Williams Island in Aventura. They remain active members of the Island's tennis community.