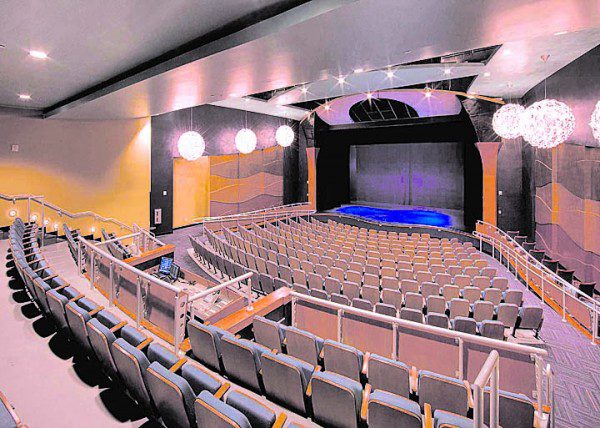 The new Aventura Arts & Cultural Center, a beautiful14,864-square-foot, 324-seat waterfront performing arts facility, is set to be officially unveiled in spectacular fashion this October with a star-studded grand opening celebration and a vibrant "Curtain Up" event for the community.
No tickets are required for the free familyorientated "Curtain Up" which takes place on Sunday, October 17 between noon and 4 p.m. The event will feature guided tours and performances by Next Step Dance, Arts Ballet Theater of Florida, Duelling Divas, International Piano Festival and Alhambra String Quartet, as well puppeteers, mimes and other entertainers.
"This Center is a cultural gem in our community and we are so excited to show it off," said Aventura Mayor Susan Gottlieb. "We envision Curtain Up as an event to showcase the programming for all ages we have to offer. We invite families to come out, enjoy the day and have some fun!"
The Center's grand opening celebration begins with a cocktail reception at 6:30 p.m. on Saturday, October 23 followed by An Evening with Patti LuPone, a special concert showcasing the talents of the two-time Tony Award-winning performer.
"Patti LuPone is a legendary performer who is the perfect talent to take the stage as we celebrate the official grand opening of our magnificent new Center," said Mayor Gottlieb, who along with Commissioners Zev Auerbach, Bob Diamond, Teri Holzberg, Billy Joel, Michael Stern and Luz Weinberg, is a member of the Host Committee for this grand opening event.
The main sponsors of the grand opening celebration include Wachovia: A Wells Fargo Company, Aventura Mall and Suffolk Construction. Opening night tickets are $185 per person and include the cocktail reception and performance.
"It's performances such as Patti LuPone's that fulfill an unmet need within our local community," said Eric M. Soroka, Aventura City Manager. "We are thrilled to bring this show and this Center to Aventura. We hope our residents will enjoy the Center as a community gathering place." T
he Aventura Arts & Cultural Center is located at 3385 NE 188th Street in Aventura. For more information or to purchase tickets, please call 954-462-0222 or visit AventuraCenter.org.