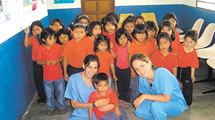 As a pediatric dentist at Aventura Pediatric Dentistry & Orthodontics, Dr. Dalia Rosenfeld is passionate about children having the biggest and brightest smiles in South Florida. She discovered her desire to help children with their dental needs during her last year of dental school at Santa Maria University in Caracas, Venezuela, where she had the opportunity to offer her services to Wonken, a remote Indian community located in Venezuela's Gran Sabana region. The area's population is nearly 3,000 and only the central village in Wonken has basic services. The diet of its people is based on their own production. Outside of the village the malnutrition rate is 99% in children.
Dr. Rosenfeld's experience helping the underserved children of that community and other villages only reachable by river helped her realize her love for pediatric dentistry. She continued her education with two years of specialized training in pediatric dentistry at the University of Medicine and Dentistry of New Jersey. In 2011, Dr. Rosenfeld was more than thrilled to volunteer her services at the New Jersey Special Olympics. Volunteers, visitors and many medal winners were provided a complete dental exam free of charge.
Locally, Dr. Rosenfeld volunteers her time speaking to pre-K through 8th graders, where her entertaining presentation about avoiding plaque monsters and the importance of brushing inspires many kids to become future dentists.
At Aventura Pediatric Dentistry & Orthodontics, Dr. Rosenfeld provides dental care for children as young as 12 months. With her two years of advanced training, Dr. Rosenfeld has the expertise to treat any child in need of dental care and she strives to make each dental visit a positive experience not only for the child, but also their parents.
Aventura Pediatric Dentistry & Orthodontics as well as the Dental Care Group's patients benefit from state-of-theart technology combined with a 35 year tradition of dental excellence.
For more information, call 305-935- 1613 and 305-935-2797 or visit online at www.aventurapediatricdentistry.com, or www.dentalcaregroup.net.