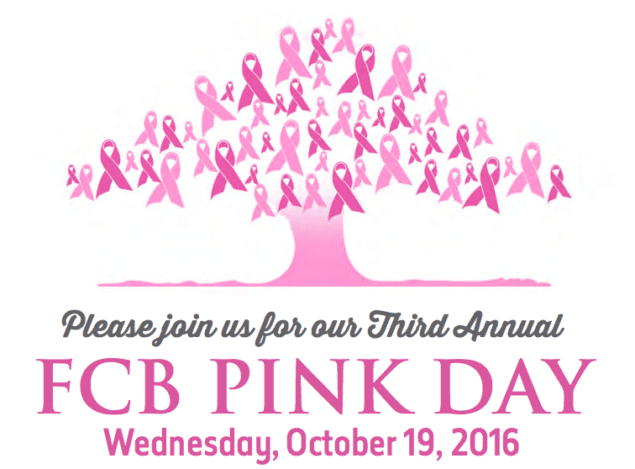 Florida Community Bank, the third largest Florida‐based bank, will host its third annual "FCB Pink Day" on Wednesday, October 19, 2016 in recognition of Breast Cancer Awareness month.
On Pink Day, FCB employees will wear pink in honor of those affected by cancer.  Customers and non‐customers alike are also encouraged to show their support by visiting any of the 48 FCB banking centers wearing pink.  All locations will have complimentary food, refreshments, and giveaways while supplies last.  FCB will be making donations to local organizations that are dedicated to finding a cure.
Florida Community Bank President and Chief Executive Officer, Kent S. Ellert stated, "FCB Pink Day is a very special day for our company.  Each year, we hope that our event will continue to spur awareness of  breast cancer and the many preventative measures available to fight this disease."  He continued, "On our third Annual FCB Pink Day, and on all days, we recognize our employees, customers and members of the communities we serve impacted by cancer."
The complete list of FCB locations and for additional details about FCB Pink Day, please visit www.FloridaCommunityBank.com.  Visit #FCBPinkDay to follow along with this event and view photos.
About Florida Community Bank
Florida Community Bank (NYSE: FCB) is the third largest Florida‐based independent bank, and among the most highly capitalized banks in the state. Recently awarded a five‐star rating from Bauer Financial™, FCB assets are more than $8 billion, with capital ratios that exceed regulatory standards. Since its founding in 2010, FCB has been steadfast in its commitment to delivering personalized service, innovation, and products and services equal to those offered by the national banks with an ever‐growing team of highly‐experienced associates and financial planning professionals. Similarly, FCB recognizes the importance of community, fostering a corporate culture that promotes employee volunteerism at all levels, while supporting community‐based programs and partnerships that help promote greater   financial independence and improved quality of life for families. FCB serves individuals, businesses and communities across the state with 48 full‐service banking centers from east to west, and from Daytona Beach to Miami‐Dade. For more information, visit www.FloridaCommunityBank.com. Equal Housing Lender, Member FDIC