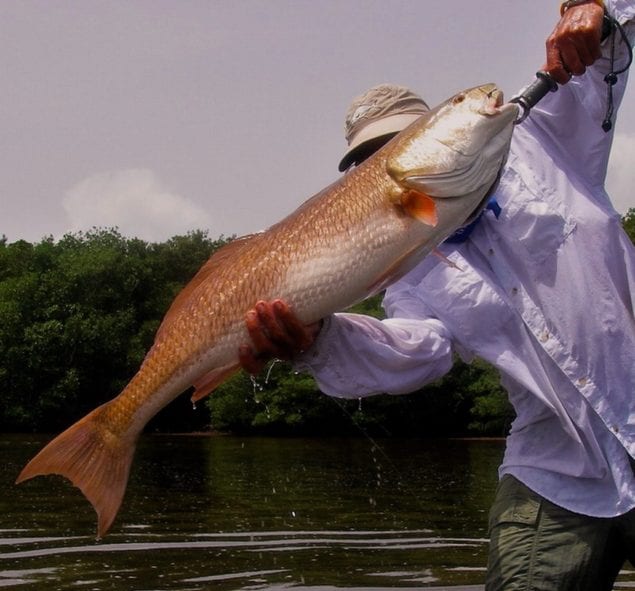 I caught a big Biscayne Bay Redfish – from a canoe.
That's right, from a canoe. No motor, no trailer, no carburetors, no batteries, and most importantly – no noise.
The stars were still shining when we launched the 14' canoe into Biscayne Bay.  I sat in the front and my guide, Cordell Baum, Jr. push poled from the back and an American Bald Eagle flew low overhead as we made our way out onto "The Flats." 
We were startled when an enormous manatee surfaced for air right beside the canoe.
"I've been thrown out of the canoe by manatee coming up like that. For me, they're more dangerous than sharks." Cordell said.
It was my first fishing trip with Miami's legendary guide, The Bonefish Whisperer — And what a day it was!
At first light, Cordell spotted a big "push." A school of marauding Redfish, an acre size disturbance on the otherwise glassy water.
And then we saw fins, lots of fins and tails glinting in the pale light.
"Stand up, get ready son. This is game on!"
I stood in the front of the canoe with my Sage Method 7wt Rod and Cordell's signature Electric Dread Fly. When the Redfish were about one hundred feet in front of us, I started my cast. 
"Try not to rock the canoe when you cast. The fish can feel that too." guide, Cordell Baum instructed. "These fish are nervous and easily spooked. They know they're in skinny water and vulnerable to sharks."
The Redfish were all lit up bright pink in two foot of water, headed straight at us and they had not seen us yet.
My cast came up thirty feet short of the Redfish.
"Leave it there!"  Cordell instructed, as he used the push pole to back up the canoe. "Let out some more line."
Cordell's push pole acumen was making up for my feeble cast.
Then BOOM! The water exploded — Fish On! The redfish ran hard nearly breaking my line on a crab trap. But Cordell pushed the canoe around it saving a great catch. And that's how I landed my first Biscayne Redfish on fly – from a canoe.
Where to get the Flies and many more cutting edge flies at: Electric Dread fly tying instructions on Facebook and you can purchase your own here. Book a guided trip unlike any other you have experienced with Cordell Baum Jr – The Bonefish Whisperer – World Class Fly Fishing on the same site.
About the Author
Cordell Baum Jr. started out guiding trout and steelhead fishing in Alaska, then he moved to Miami in 2004 and fishes under the name Bonefish Whisperer. He is the urban commando of fly fishing from canoes, kayaks and walking. Cordell catches trophy fish in both fresh and salt water.