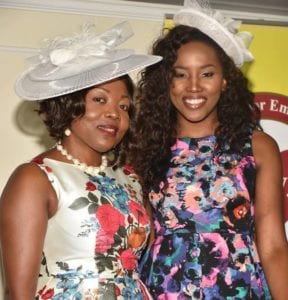 Ladies of Valor Empowerment (L.O.V.E.) celebrates its 12th anniversary today, June 23, with "Suited for Empowerment" in recognition of the non-profit's continued committed to volunteer services to the community. The highly anticipated annual fundraiser luncheon, takes place at the Miami Shores Country Club, 10000 Biscayne Boulevard in Miami Shores, 11:30 a.m. – 3:30 p.m.
And it's not too late for supporters to join in the luncheon celebration — as organizers will certainly make room for additional guests at the table, with a tax-deductible donation of  $65 at the door.
According to L.O.V.E. Founder and CEO Lady Alourdes Pierre, "This is the only movement of its kind in the city, where community leaders and professionals come together to mentor and empower high-risk teenage girls."
This year, 15 graduates of the two-year program will be present at the luncheon, to proudly share their personal success stories, as several head off to college, enlist with the military, and/or enter training as first responders.
As a non-profit organization, L.O.V.E. is committed to serving underprivileged women and teenage girls, primarily in the City of North Miami area. Starting this fall, LOVE will launch a new location focused on providing guidance in job-readiness skills and professional attire for job interviews and placement.
"We are thrilled to be able to continue making a difference in the lives of teenagers and women, one girl at a time," Pierre added. She also serves as host for the event.
Also during the event, guests will be treated to a fun-filled luncheon offering delicious cuisine, great entertainment, prize drawings – and the annual "Best Hat Contest" – all for a great cause. Because the event is billed as a 'high tea'," Pierre noted that guests are encouraged to wear summer colors along with their best hats for the big contest.
In addition to the impressive set of successful community leaders as guest speakers, the Annual Founder's Choice Award will be presented to the North Miami Public Library.
Guest speakers will include:
Mistress of Ceremony: Lady Enette Henderson, State Farm Insurance & Financial Services Specialist;
Keynote Speaker: President Alpha Kappa Alpha Sorority, Inc. Miss. Tara J. Pasteur, Gamma Zeta Omega Chapter; and
Celebrity Guest: New York-based Fashion Designer Garry Destin.
The event also includes live musical selections by renowned Saxophonist Fritznel Adrien. Special thanks to Vendor Showcase Supporter Macy's.
To RSVP and purchase tax-deductible tickets for $65, visit EventBrite. For information regarding corporate sponsorship, in-kind donations, and souvenir-book advertisements, contact Ladies of Valor Empowerment at 786-615-2235.
Ladies of Valor Empowerment is a 501(c)(3), is a non-profit organization committed to empowering and educating underprivileged women through professional development training and by equipping teenage girls one at time via mentorship intervention. Programs include the Youth of Valor Empowerment (Y.O.V.E.); and the "Step It Up" program of LOVE, which serves underprivileged teenage girls, ages 14-18, in North Miami's Haitian-American community, by instilling within them the confidence and integrity needed to become college bound and career focused, developing their greatest potential, and providing tools so they may join the next generation of women leaders.
For information, contact Founder & CEO of L.O.V.E. Alourdes Pierre at 786-615-2235. For information, visit www.yove.org or www.ladiesofvalorempowerment.org.