The Bible is filled with some of the world's most beautiful lyrical poetry. Dance NOW! Miami has daringly created a new work inspired by probably the best Old Testament example of this in their The Book of Psalms, which will have its World Premiere at the Aventura Arts & Cultural Center on Saturday, April 21, at 8:30 pm, as part of their evening of work called Contemporanea 2018. The company, South Florida's leading proponenBook t of contemporary dance, brings its emblematic graceful athleticism and syncretic of-the-moment style to this very special event. The evening also includes the Miami Premiere of Touch Me, the duet XY The Engine of Life, and the World Premiere of Here On Earth.
The Book of Psalms, choreographed by company Artistic Directors Hannah Baumgarten and Diego Salterini, is a contemporary dance journey through the hopes, joys, loyalties, sorrows, doubts and aspirations of the human heart. "It's especially wonderful for me, a Jewish woman, to engage these ancient biblical texts, as a choreographer and a leader of our company," says Baumgarten. "While most Psalm-inspired musical works are big choral arrangements, our dance piece will be both musically and thematically more intimate and personal." The piece will feature an original score from Milwaukee Conservatory of Music percussionist DeLayne Doyle, costumes from Renato Armijo of Chernaya Bridal House, a breathtaking set from Elizabeth Camargo, President of the Miami Chapter of A.I.A., and lighting from long-time company collaborator and Technical Director Bruce F. Brown.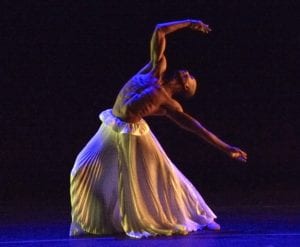 Touch Me is a reconstruction of the choreographer Gerald Arpino's moving solo, danced to a crackling gospel score, originally created for the Joffrey Ballet in 1977. This is part of Dance NOW!'s ongoing "Masterpiece in Motion" series that brings historically important modern dance works back to life on South Florida stages. XY The Engine of Life, choreographed by Salterini, is a striking duet with a man and a woman who are at once spiraling DNA strands and flesh and blood people, with a return performance from Cuban dancer Isvel Bello, and scored to striking music from Miami-based Federico Bonacossa. Here On Earth, with choreography by Baumgarten, brings the whole company on stage for a playful exploration of our responsibility to one another, with music from Alexandre Desplat, the Books and Gil Scott-Heron.
"We love the way our work this season is literally bridging divides, from the secular to the religious, and across cultures, while continuing to push our company to new heights of artistic excellence," says Salterini, who while a long-time Miami resident, grew up in Italy. Tickets for the Saturday, April 21 Contemporanea 2018 evening are $35 general admission, and $15 students (at the box office in-person only). Regular price tickets can be purchased in advance online at tinyurl.com/Contemporanea2018 and by phone at (877) 311-7469,or in-person tickets at the Aventura Arts & Cultural Center box office, 3385 NE 188th Street, in Aventura. The Center is fully wheelchair accessible and with adjacent free parking lots. For group sales of ten or more, and for more information, visit www.dancenowmiami.org or contact DanceNOW! at (305) 975-8489 or info@dancenowmiami.org.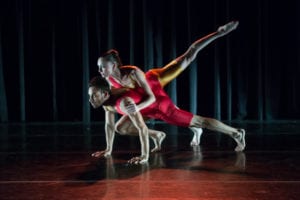 Other Spring 2018 Dance NOW! season events include March 16,  Spring Forward at the North Beach Bandshell, Miami Beach; April 12, Ekphrasis in the Cloisters, at the Ancient Spanish Monastery, North Miami Beach; April 14,  create.FLORIDA.dance, at the Duncan Theatre, Lake Worth; May 13, Afternoon Tea with Mother, at the Betsy Hotel, Miami Beach; and May 19, Bridges NOT Walls/Puentes NO Muros, The Colony Theatre, Miami Beach.
Dance NOW! Miami, the leading contemporary dance company in Florida,was founded in 2000 by Artistic Directors Hannah Baumgarten and Diego Salterini. The company presents original work on the crest of the contemporary dance movement by the Artistic Directors, created individually and collaboratively, and honors the rich legacy of Dance, presenting master works of ballet and modern dance from the 20th and 21st Century from Doris Humphrey and José Limón to the Joffrey Ballet. Dance NOW! has collaborated with over 100 artists and organizations. They have pioneered cultural initiatives such as the Daniel Lewis Miami Dance Sampler which honors Miami's established companies; Miami Open Stage, which mentors emerging choreographers; as well as designed avant-garde performances, site-specific events in museums and galleries, the Ekphrasis Project.. The company has been presented in 15 states and on three continents, and has reached over 22,000 children in South Florida alone through its in-school residencies, the World Dance Summer Intensive, and performances from its residency home at the Little Haiti Cultural Complex.
Support for Dance NOW! Miami, and its performances, is provided in part by the State of Florida Division of Cultural Affairs; the Miami-Dade County Departmentof Cultural Affairs and the Cultural Affairs Council, the Miami-Dade County Mayorand the Board of County Commissioners; the City of Miami Beach Cultural Affairs Program, Cultural Arts Council; Foundation for New Education Initiatives; Florida Dance Education Organization; Miami Dance Futures; New World School of the Arts; Miami ArtZine; the Samara Fund; KCC Productions; Akerman Law firm; Northern Trust Bank; the City of Miami and the Little Haiti Cultural Complex; and other donors. Dance NOW! is also funded by The Children's Trust. The Trust is a dedicated source of revenue established by voter referendum to improve the lives of children and families in Miami-Dade County.
WHAT: "Contemporanea 2018" featuring "The Book of Psalms," dance performance by Dance NOW! Miami

WHEN: Saturday, April 21 at 8:30 pm

WHERE: Aventura Arts & Cultural Center, 3385 NE 188th Street, Aventura, FL, 33180

ADMISSION: $35 general admission, $15 students (at the box office in-person only). Regular price tickets can be purchased in advance online at tinyurl.com/Contemporanea2018 and by phone at (877) 311-7469, or in-person tickets at the Center box office.

FOR MORE INFO: www.dancenowmiami.org or (305) 975-8489 or info@dancenowmiami.org