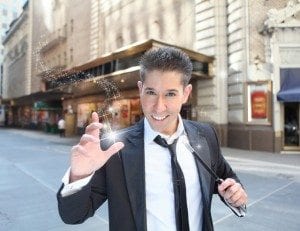 Dubbed an "illusionist extraordinaire," Brad Ross brings his new show Unbelievable! to Aventura Arts & Cultural Center on Tuesday, December 29 at 7 p.m. A celebration of jaw-dropping magic that includes hilarious comedy and lots of audience participation, Ross takes his audiences on a journey into a world where anything is possible, providing spellbinding wonder and entertainment for the entire family.
Combining the astonishing spectacle of magic with the art of theater, Ross is a celebrated entertainer who crosses international boundaries and language barriers to deliver world-class performances. From intimate personal appearances at venues such as the Aventura Arts & Cultural Center to arenas with 10,000 audience members, Ross has entertained and literally mesmerized millions of people during multiple world tours in 25 countries and in 16 different languages.
The Los Angeles Times states that Ross provides, "a razzle-dazzle exhibition of slight of hand, levitation, tricky escapes, and other mind bending magic…Not to be missed."
Tickets are $25.50 and $35.50. Buy tickets online at aventuracenter.org; by phone at 877-311-7469; in person at Ticketmaster outlets or at the Aventura Arts & Cultural Center box office Tuesday through Saturday from noon to 5 p.m. and 90 minutes prior to each performance.
The Broward Center for the Performing Arts manages the Aventura Arts & Cultural Center, a 14,864-square-foot, 330-seat waterfront complex that hosts performing arts, cultural and educational programming for all ages. The Aventura Arts & Cultural Center is located at 3385 N.E. 188 Street in Aventura.
Join the conversation on Twitter at #aventuracenter.