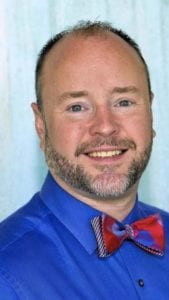 Jeff Kiltie has been named General Manager for Aventura Arts & Cultural Center (AA&CC), a 330-seat waterfront complex, which is managed by the Broward Center for the Performing Arts and hosts performances from all arts disciplines, as well as educational programming.
Prior to being named General Manager, Kiltie served as the venue's Event Services Manager, having begun his tenure in August 2010, two months prior to Aventura Arts & Cultural Center's grand opening that October. As General Manager, Kiltie's responsibilities will include managing the staff; supporting the City of Aventura in the operation of a successful performing arts center; and creating, developing and implementing strategies, policies and procedures that will promote and enhance the success of AA&CC as a performing arts facility, community center and asset to the city.
With more than 28 years in the field, Kiltie is passionate about the arts and has served the theater community as a production supervisor at Broward Center for the Performing Arts and as a regional and touring stage manager (for more than 50 shows), director and producer. He has been a resident stage manager for local venues including the Hollywood Playhouse, The Drama Center in Deerfield Beach and The Wilton Playhouse in Wilton Manors. A Miami native and current resident of Wilton Manors, Kiltie is a member of Actors' Equity Association and studied theater at Florida International University. He was instrumental in creating the partnership between AA&CC and the acclaimed and Carbonell Award-winning Slow Burn Theatre Company; he co-created Aventura's "Cabaret by the Bay," now the "Broadway Concert Series" and received the Broward Center's annual Communication Award in 2006. Kiltie served several terms on the board, twice as Vice President, for the Hollywood Playhouse, and was a founding member of the South Florida Cappies.
The Broward Center for the Performing Arts manages the Aventura Arts & Cultural Center, a 14,864-square-foot, 330-seat waterfront complex that hosts performing arts, cultural and educational programming for all ages. The Aventura Arts & Cultural Center is located at 3385 N.E. 188 Street in Aventura. Join the conversation on Twitter at #aventuracenter.