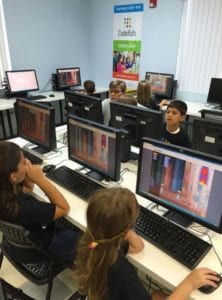 CodeKids, Florida's premiere coding and robotic summer camp, is getting ready for its second year opening new locations, expanding its curriculum and offering a unique alternative to traditional summer programs. This year, CodeKids will be offering ten 1-week, full or half day sessions for kids ages 7-13 in 22 locations in 4 counties.
Building on the principles of STEM (Science, Technology, Engineering and Math), CodeKids' campers will learn to create and play games, build functioning robots, program drones, or building websites while learning valuable skills and opening their eyes to the world of computer coding, robotics and Minecraft. The curriculum includes: the fundamentals of coding, problem solving and logic, game design, web design and development, electronics, hardware and software, robotics, all while learning teamwork and improving on their math and English proficiencies.
"Our priority is to inspire our campers to see all the possibilities technology have to offer", explained Maurice Lopes, founding partner of CodeKids, "our modules are set up to work with children at various levels of computer knowledge. Whether your child has some computer training or not, the camp's personalized attention and self-paced setting – with assistance from the instructors- makes it easy for every child to learn at a different pace. Each student works on his or her own computer, and state-of-the-arts equipment."
In addition to impacting the lives of over 2000 students, CodeKids is also making a difference in the communities it serves. To date, CodeKids have forged partnerships with all hosting schools, thereby generating much needed revenues for the schools and the community, as well as employing over 100 teachers.
Starting June 13th, CodeKids will hold sessions in Coral Gables, Brickell, Miami Beach, Aventura, Doral, Hialeah, Wynwood, Kendall Lakes, Kendall, Miami Lakes, Pinecrest/South Miami, Lauderhill, Davie, Weston, Miramar, Coral Springs, Fort Lauderdale, Boca Raton/Delray, Wellington, West Palm Beach, Jupiter and Port St. Lucie. The sessions are designed so that a student could attend just one week or all ten starting at  $150 per week depending on the curriculum selection. Lunch and healthy snacks are also included.
To enroll on-line or to obtain more information, visit https://codekidscamp.com/ or call 305.257.8602.