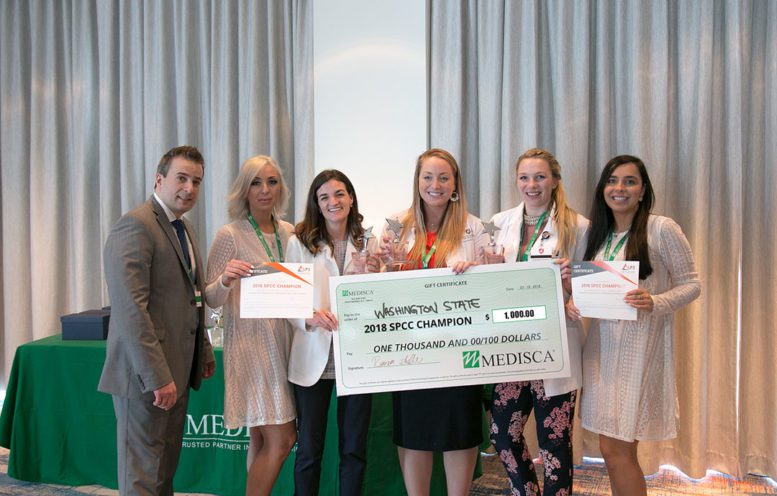 For the eighth consecutive year, energetic and passionate future pharmacists came together at the Student Pharmacist Compounding Competition (SPCC) to face off in a series of challenges that tested both their compounding technical skills and scientific knowledge in an enthusiastic and collaborative atmosphere.
The competition, cosponsored by MEDISCA, MEDISCA Network, and LP3 Network, took place from March 17 to 18 in Aventura at LP3 Network's modern learning facility and gathered student teams of 3 from 19 colleges across the nation to compete in stimulating and high-intensity events, including a practical lab, a gameshow challenge and an innovation challenge.
The SPCC 2018 National Championship concluded with Washington State University College of Pharmacy sweeping up first-place honors. University of South Carolina College of Pharmacy – USC Campus and University of Kentucky College of Pharmacy ranked second and third, respectively.
SPCC is not only a competition, it also provides students, faculty and industry leaders – represented this year by the United States Pharmacopeia (USP), the National Community Pharmacists Association (NCPA) and the International Academy of Compounding Pharmacists (IACP) – with a channel to cultivate relationships and promote cooperation within the compounding community, while fostering optimism and communication. 
"By embracing the student pharmacist and asking that they step forward and participate in this initiative, we hope to bring forth a sense of pride and prestige to themselves and their colleges", said Maurizio De Stefano, LP3 Network's General Manager.
This year, a unique event awaited participants. Day 2 of SPCC saw the launch of the first-ever Compounding Challenge, where each team selected a representative to face off in a reality-TV-style event and create an appropriate formulation, based on a physician's request. Rebecca Caughman (University of South Carolina College of Pharmacy – USC Campus) came out on top of this contest.
SPCC 2018 certainly lived up to its vision of providing pharmacy students with a forum of expression as the future of the pharmacy compounding community.
To learn more, visit www.medisca.com/news-release/winner-spcc-2018