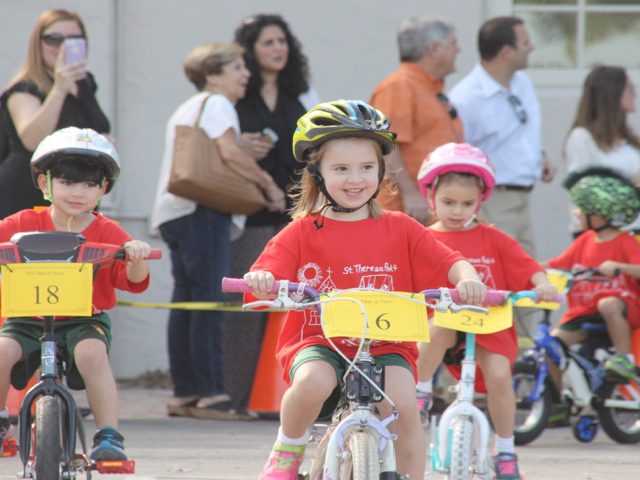 The excitement was electric among students, parents, teachers, grandparents, faculty and staff at St. Theresa School, as its tiniest tykes prepared to set off on the 15th annual Trike-A-Thon benefiting St. Jude Children's Hospital.
"We are raising money for St. Jude," said Constansa Gadda, one of 76 Pre-K4 students who participated in the lively event. "Sick children go to that doctor place where children get better."
St. Theresa is the parish school for Little Flower in Coral Gables.
Starting at 8:45 a.m., each class rode for 30 minutes over a course laid out by parents and teachers. The first heat began at 8:45 a.m. The school's principal, Carmelite Sister Rosalie Nagy, along with assistant principals Nancy Capper and Gloria Marti, led the charge, riding on the "pace golf cart."
The children rode with passion, navigating their way around the curves and into the straightaways, excited to have the opportunity to pedal for a purpose. When a pit stop was needed, bikes were abandoned mid-course, and riders refueled with juice or water. Parents staffed the race, making sure when the children returned to their bicycles they headed in the right direction.
"Each student raises money from family and friends to benefit the children of St. Jude," said Capper, vice principal of Pre-K4 through fourth grade.
"My son, Christian, who is now a freshman in college, was in the very first Trike-a-Thon here at St. Theresa. We learned that someone of the age of 4 or 5 can give back to those less fortunate," she added.
"The children learn about bicycle safety and about St. Jude Children's Hospital," said Carmen Sanchez, Pre-K4 teacher who organizes the event. "They learn the lesson of helping other children who are very sick, as well as being grateful for their own health."
The event raised $3,000 in its first year, but the total has grown steadily since. This year, thanks to the contributions of the children, parents and grandparents, the Trike-a-Thon raised over $41,000 for St. Jude, making St. Theresa the top fundraising school in the United States.
"We have different fundraisers for different purposes throughout the school year," Sister Rosalie said. "This is one of our service projects which reaches out into the greater community, showing how St. Theresa School cares for others. It is an important part of our Musketeer Spirit."
St. Theresa Catholic School was founded in 1925. It is fully accredited by the Florida Catholic Conference and recognized by the National Council for Private Schools accreditation. St. Theresa Catholic School is a parish elementary school with grades Pre-Kindergarten through 8.