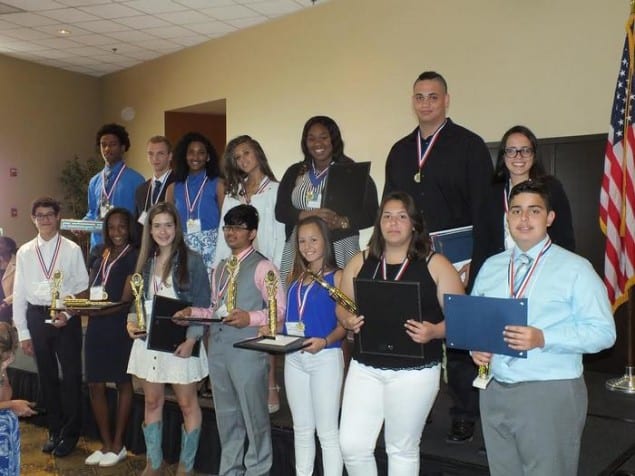 Turning their uneven school careers into positive ones earned recognition for 29 Kendall area students as the Kendall Federation of Homeowner Associations (KFHA) once again honored "Operation Turnaround" award winners at an Apr. 21 luncheon hosted by Miami-Dade Firefighters Local 1403 at its Doral headquarters.
Students — along with KFHA officers, county officials and guests — heard an inspirational message from Rev. Richard P. Dunn II, former Miami City Commissioner and senior pastor at Faith Community Baptist Church in North Central Miami-Dade, urging students to revalue their lives rather than responding to peer pressure. Also commending the students was Nancy FAncrum, Editorial Page editor of the Miami Herald.
"There is nothing that can replace the value of mentorship" was the quotation honoring the late Dorothy Cissel, a longtime KFHA member who founded the program to honor deserving youth who have "turned around" their school and personal lives to become outstanding students.
"KFHA takes great pride in carrying on a tradition of 34 years of finding these remarkable students in the Kendall School District that have stood out among their peers for facing incredible obstacles in their lives and 'turning around' to meet the challenges of life head on," said Michael Rosenberg, KFHA president.
"The Operation Turnaround program allows our community to help create scholarships for these students, awarded at this event. Anyone who wants to help can go to <www.KFHA.org> and contribute to the Operation Turnaround fund."
In addition to KFHA and the Firefighters Local, benefactors supporting the 2016 program included Miami-Dade College, Ibiley Uniforms, County Commissioner Daniella Levine Cava and County Commissioner Juan C. Zapata.
Among program donors were Judy and Daniel Cowan, Elna Epperson, Sen. Anitere Flores, Jose R. Hernandez, David and Melinda Iglesias, Sherry Maer, Miles and Lina Moss, Michael and Nancy Rosenberg, Rotary Club of Miami (Kendall), Douglas and Bernadine Smith. Assisting in arrangements were Christina's Party Rentals, Image Miami, Model Design Printing, ReMo's Catering and Chef Rena Mohamed.
Award winners
High School: Benyah Andressohn, BioTECH at Richmond Heights 9-12; Amani Davis, Coral Reef; Hamie Passos, Felix Varela; Jeannie B. Regidor, G. Holmes Braddock; Victoria Tufts Miami Sunset; Franco Barzola, Southwest Miami, and Dallas Chavez, TERRA Environmental Researchl Institute.
Middle/K-8 Centers: Lexi Corbin, Arvida Middle; Devin Valdes, Devon Aire K-8; Kaila Ellis, Frank C. Martin K-8; Taha Iftikhar, Hammocks Middle; Indira Labastida, Howard D. McMillan Middle; Miranda Pajares, Richmond Heights Middle, and Christopher Fuxa, Winston Park K-8.
Elementary/K-8 Centers: Sophia Arguelles, Bent Tree Elementary; Andrew Whalen, Calusa Elementary; Richard Perez, Claude Pepper Elementary; Sara Giraldo, Devon Aire K-8, and Stephanie Duarte, Dr. Manuel C. Barrfeiro Elementary; Genesis Guzman, Ethel Koger Beckham Elementary; Meryck Knox, Frank C. Martin K-8; Monique Quillet, Gloria Floyd Elementary; Leonardo Mardones, Jack D. Gordon Elementary; Elijah Toussaint, Kendale Elementary; Tatiana Cravo, Kendale Lakes Elementary; Shurmya Reid, Leewood K-8; Koby Haynes, Sunset Park Elementary; Luna Sanchez, William Lehman Elementary, and Bianco Brito, Winston Park K-8.