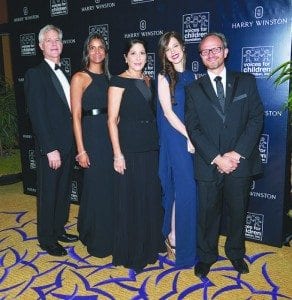 Voices For Children Foundation, a Miami not-for-profit organization advocating for children in foster care, and Presenting Sponsor Harry Winston Inc., the international fine jeweler and watchmaker, served as hosts to approximately 450 of Miami's most influential and philanthropic individuals for the organization's "Be A Voice, Create A Legacy" gala.
The premier annual fundraising event began with a cocktail hour on Saturday, Jan. 16, at host sponsor Mandarin Oriental, Miami, 500 Brickell Key Dr. Brittany and Christian Slater served as honorary co-chairs, while radio personality Paul Castronovo of local radio station BIG 105.9's Paul and Young Ron Show served as emcee.
The evening sparkled as Harry Winston displayed a selection of spectacular diamond pieces for guests to enjoy including the remarkable 111-carat Secret Combination necklace. They also participated in live and silent auctions for luxury goods.
Guests enjoyed a beautiful performance by a former beneficiary of Voices For Children Foundation, Shakyiah Cargill. Cargill performed Fight Song by Rachel Platten and also shared her story of determination and perseverance.
"This gala was the best night of my life," she said.
As a special surprise, Voices For Children contacted Shakyiah's brother, Isaiah Cargill, and flew him from Paris, France, to Miami to attend her performance at the gala.
Voices For Children Foundation raises funds to help ensure that abused, abandoned and neglected children in the Miami-Dade County foster care system each have the resources to meet their legal, health, educational and social needs.
During the gala, the Zyman Family Foundation was honored for providing more than $400,000 in college scholarships during the past four years through Voices For Children Foundation's "It Takes a Village" program. The program provides foster youth, both dependent and "aged out," with funding and other resources to attend college.
The gala was chaired by Miami power couple and longtime Voices For Children Foundation supporters Jeff and Yolanda Berkowitz, and made possible by Presenting Sponsor Harry Winston.
To learn more about underwriting opportunities and sponsorships for next year's gala, call 786-469-3861 or send email to TRodriguez@BeAVoice.org.