Coming soon to a gallery near you, after a lengthy pause before giving up on herd immunity, Art Basel Miami will return to the Miami Beach Convention Center. It's invitation only from Tuesday, November 30, 2021, 11am to 8pm for First Choice VIP cardholders, Tuesday, November 30, 2021, 4pm to 8pm, Preview VIP cardholders,Wednesday, December 1, 2021, 11am to 8pm, First Choice and Preview VIP cardholders, with the Vernissage (by invitation only) Wednesday, December 1, 2021, 4pm to 8pm, until the commoners join for Public Days on Thursday, December 2, 2021, 11am to 7pm; Friday, December 3, 2021, 11am to 7pm; and Saturday, December 4, 2021, 11am to 6pm.
Rules remain strict: security, bags, prohibited items, camera restrictions, and marketing material distribution are among the policies visitors must comply with in addition to vax documentation or recent negative PCR or antigen test results, and mandatory masking.
For the record, the last Art Basel Miami took place years ago, just before the world locked down. Now, to tell the truth, with the world still coping, we've given up and announced victory; the show must go on.
The primary players aside from the headliner, Art Miami with its kids Context and Aqua, Scope, UNTITLED, DESIGN, and NADA, will all partake along with Pinta, and a few others. Hours vary everywhere. Pulse, which had become Volta but had to cancel last year, threw in the towel. Spectrum and Red Dot, both old hands in the business, have wrested Mana from the always interesting Pinta which will move to the cool eastern edge of the uncool creepy Design District. 
The windfall that is swept across Dade from Art Basel is nothing to trivialize. In fact, it is no stretch to say that Art Basel, along with Miami Vice, the Heat, the winter weather, and Wynwood, made the magic city magic. Art is glamour, and glamour is admired. In a world full of nonsensically uninspiring influencers mysteriously capable of stimulating millions of lamebrained blockheads, finding legit style and creativity outside of YouTube or TikTok still resides at events like this. Stars come, and wannabes hope to learn something. 
Furthermore, in a United States driven more and more by rural folk without passports who are watching crazy cable or gluing themselves to vicious, dishonest  radio fibsters while complaining about all sorts of imaginary things in order to acquire imaginary power, Art Basel Miami is the opposite. The artists, the galleries, and the visitors are global.
That's not to say it's sensible. Money is moving, parties are prevalent, jewelry is jingling, and surgery is savage. The masses both buy and behold. Something for your skyscraper or mansion can be purchased, and all sorts of folks are bangin' fashion. It feels memorable. If you build it, they will come.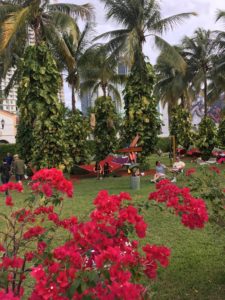 This year though, an ever present question remains: will everything that is supposed to happen actually unfold as planned. The different swerving camps on COVID are both affected. Or all affected. No matter what you know, who you know, what you believe, events take place and get canceled. Mandates are raised, lifted, ignored, and observed. Nobody is happy. Democracy and capitalism are challenged. But that's all too heavy here. 
Therefore, let's let the idea remain this: enjoy yourselves and party like it's 1999, or better yet, like the last time we gathered, in 2019.