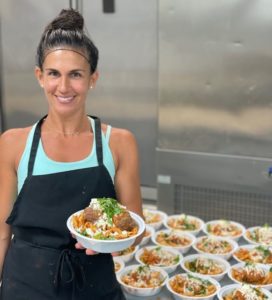 Being an athlete her entire life, Nicole Retchin knew what food made her body go from 0-60.
She turned that knowledge into a profession, becoming a chef after getting her formal training at Johnson & Wales. More than five years ago she launched Chef Nicole Miami, a healthy meal delivery service that caters to everyone from those looking to maintain or lose weight to athletes.
"My love for cooking and a healthy lifestyle organically created Chef Nicole Miami, a Miami based healthy meal delivery service," she explains. "My formal training from Johnson & Wales University enabled me to create recipes full of flavor that are healthy and well balanced."
Nicole ran high school cross-country and track & field. Later she trained and completed half marathons and triathlons.
"I am very passionate about the role proper nutrition plays in overall health and well-being, and athletic performance," she said. "Food is fuel for the body and mind."
The difference in her meal program is that Chef Nicole Miami doesn't leave out important complex carbohydrates. There are good ones, after all, that combine with lean proteins and vegetables to create meals that pack a punch. She offers breakfast, lunch and dinner, as well as snacks, and you are only charged for what you order.
Chef Nicole Miami keeps it simple: the two different meal plans differ only in size: The "Lean Machine" meals fall between 400-500 calories and are recommended for someone who is looking to maintain or lose weight and learn proper portion control. The "Ultimate Warrior" meals fall between 700-800 calories and are designed for people who live active lifestyles.
"All food groups are beneficial and have a different purpose to fuel your body," she said.
The way Chef Nicole makes her food is also key to its healthy qualities. She cooks all the meals using healthy unsaturated fats such as olive oil and avocado oil. They do not cook with trans fat, butter or lard, she explains.
Chef Nicole Miami's menu also changes weekly and features seasonal menu options. She also looks to feature locally sourced produce when it fits into her menu. The business currently employs 12 and has grown to the point where her sister, Brittney and brother-in-law, Nathan, have moved down to join the business.
"We are an unstoppable team," she says.
To reach Chef Nicole, call 305-898-6722, email her at chef@nicoleretchin.com and find her online at chefnicolemiami.com.