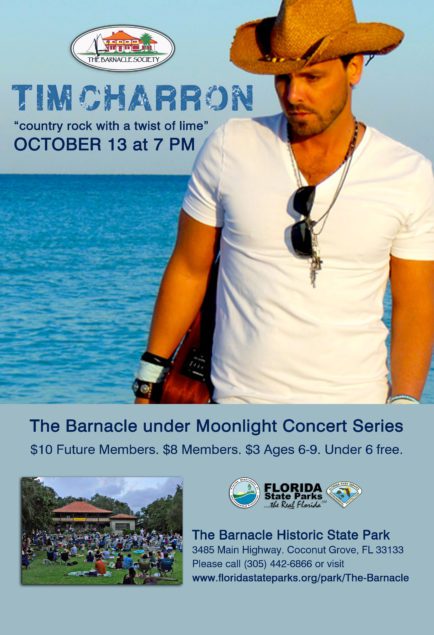 Nothing like "Country Rock with a twist of lime" — especially on The Barnacle's front yard, Saturday, October 13.
Guests may purchase tickets at the gate beginning at 6 p.m., and enjoy the music from 7 to 9 p.m. Admission is $10 for adults, $8 for members of The Barnacle Society, $3 for children ages 6 to 9, and free for children 5 and under. No pets are allowed.
Originally from Warwick, Rhode Island, Charron now divides his time between Nashville and Florida. If you asked Tim to name some of his greatest influences he would cite musical greats like John Mellencamp, Bruce Springsteen, Kenny Chesney, Eric Church, and Nirvana. However, one of the greatest influences on his life (and in his music) has come from Mother Nature herself, the beach.
The beach lifestyle has permeated the singer's sound propelling him to career that has led to sharing the stage with Bret Michaels, Willie Nelson, the Charlie Daniels Band, Clint Black, Randy Travis, and many others who have reached the pinnacle of music. Charron currently has three albums out, including Chasing The Sun, which was recorded with country mega star Jason Aldean's band, and he still brings his zest for the stage to his live shows today.
ABOUT MOONLIGHT CONCERTS
Concerts are held every second Saturday now through May. Performances take place at the Historical Barnacle State Park, 3485 Main Highway – a short walk down the path from the main gate, at water's edge, where guests are invited to come out and enjoy the park's grounds an hour early at 6 p.m. Lawn chairs and picnics welcome. No pets, though.
November – 70s Country Rock performed by the Tall Boys
December – Folk Singer-Songwriter Rod MacDonald
January – Brazilian Indie Musician Andro Baudelaire
February – TBA
March – Indie Folk Band, American Darling Valve
April – Fusion Folk Americana duo Jennings & Keller
May – Beth Woods (tentative)
Park curbside on Main Highway or in one of Coconut Grove's many lots or garages – and then stroll over to the entrance gate to purchase tickets. Members of The Barnacle Society receive 20 percent off the adult price and free passes to one regular Moonlight Concert per season.
Members can join or renew right at the gate. Tickets prices are $10 for adults; $8 for members of The Barnacle Society; $3 for children ages 6 to 9; and free, ages 5 and under.
The Barnacle Historic State Park is administered by the Florida Department of Environmental Protection and events are sponsored by The Barnacle Society, Inc., a non-profit organization created for the preservation and financial support of this historic site.
For information, call 305-442-6866 or visit www.floridastateparks.org/park/The-Barnacle and www.TheBarnacle.org.