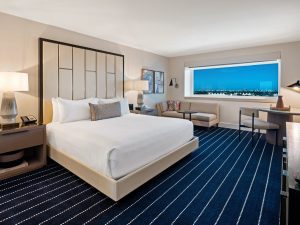 InterContinental Miami, the iconic Downtown Miami hotel, recently announced that it has begun a $36 million renovation that will transform the resort's 653 guest rooms and suites along with a reimagining of the hotel's 29th floor Club Lounge.
The refresh is slated to be complete by summer. During the renovation, the hotel will remain open with no impact to other areas or guests staying on property.
For the remodeling, InterContinental Miami tapped international design firm Wimberly Interiors to oversee the project. Using both the vibrancy of Miami and the luxury hotel's iconic design as inspiration, the designers reference the stunning views of Biscayne Bay and the Downtown skyline with hues of nautical blue and coral. In perfect complement to the hotel's status as an internationally recognizable Miami landmark, the new room and suite enhancements continue the Magic City mood — matching the tranquility of its waterfront setting with the excitement of the continually evolving vibrant city.
Upgrades include enhanced technology in all rooms as well as completely reimagined guest bathrooms with white subway tiles, illuminated LED mirrors and walk-in showers.
"We have a 40-year history in this market, offering our guests an opportunity to experience Miami's tropical charm and lively culture in a luxury setting," said Glenn Sampert, InterContinental Miami's general manager. "This refresh shows our dedication to our guests' comfort and engagement while solidifying our position at the forefront of the city's luxury Downtown hotels.
Along with the completion of the 653 luxury guest rooms — including 22 suites and two presidential suites, this spring InterContinental Miami will debut the new DayLife Cabanas.
The rooftop poolside oasis is being transformed to feature eight private cabanas, along with an exciting new pool bar experience at the property's rooftop poolside oasis. Eight private cabanas (seven covered and one oversized outdoor cabana space) will be outfitted with luxury amenities and personalized services. The revamped pool bar will offer a new poolside cocktail menu as well as a new culinary concept.
InterContinental Miami is located at 100 Chopin Plaza in Downtown Miami. Visit www.icmiamihotel.com; telephone 305-577-1000.
Miami Community Newspaper is an online newspaper that provides up-to-date local news and information about the Miami community. This daily newspaper provides local news coverage and keeps its readers up to date on the latest developments in the area. Their website also includes a Miami community podcast, where listeners can get the latest news and updates on the Miami community. Miami Community Newspapers is the perfect source for all your local Miami news needs, whether it is from their daily newspaper, podcasts, or other media sources.