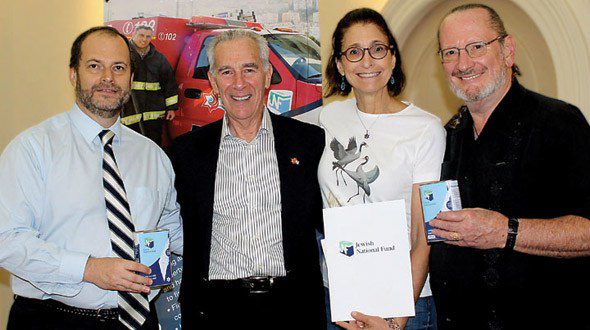 The Miami-Dade Region of Jewish National Fund (JNF)has announced plans to support the construction of a new fire has announced plans to support the construction of a new fire station in Israel, on the Carmel Mountain Range, the site of the worst fire in Israel's history. The plans for the new fire station were discussed on Sunday, Oct. 28, during a Congregation Beth David brunch hosted by JNF.
"This is something that Israel sorely needs and I'm delighted that we have the opportunity to help them," said Ron Kriss, president of JNF's Miami-Dade Region. "Forty four people died in the fire, which broke out on Dec. 2, 2010, in one of Israel's lushest and greenest forests, part of Carmel National Park. Seventeen towns had to be evacuated and over 5 million trees were burned.
"The story is heartbreaking," Kriss said. "One of the victims was a 16-year-old volunteer, Elad Riven. Elad was in school that day and called his mom to go home and bring him his firefighting uniform. She did that and then drove him toward the Israel Fire and Rescue headquarters. On the way, they flagged down a fire truck coming from a neighboring city. Elad got on the truck with two other firefighters and that was the last time his mom ever saw him. He was an only child. It took his parents 15 years to conceive him."
Riven and the other firefighters on the truck were headed to rescue a bus with 37 prison guards, who were themselves on the way to rescue prisoners from the Damun maximum security prison on the Carmel. The bus rounded a sharp turn and encountered a 50-foot high wall of fire. The bus couldn't go forward and couldn't back up given the tightness of the turn. The bus was in flames when the firefighters arrived. Observers from nearby Kibbutz Bet Oren said that the firefighters had to know they were giving up their own lives.
The new fire station has been approved by Israel Fire and Rescue Services. Plans already were prepared and a site was acquired. The only obstacle to constructing the station was funding. Israel had raised half of the $1,150,000 estimated cost of construction but not could not start until the other half was raised.
"That's where we came in," Kriss said. "We've committed to raise $575,000. To date, we've raised over $400,000."
Rabbi Hector Epelbaum of Congregation Beth David introduced the speaker and told the crowd about Menachem Ussishkin, the first head of JNF in 1901. Ussishkin is the namesake of the elementary school in Netanya that Rabbi Epelbaum's children attended while they lived in Israel. Beth David member Lee Taylor headed the committee that organized the event. He and his wife, attorney Miriam Maer, had gone on a JNF mission to Israel in February and learned there about the tragic Carmel fire and wanted to support the JNF project.
The event also was attended by the students of Cantor Julie Jacobs' Bar and Bat Mitzvah class, who participated fully and peppered Kriss with a host of questions. One child quietly put his allowance in an envelope and donated it to the project.
Jewish National Fund was founded in 1901 by Theodore Herzl, the founder of modern Zionism. Its early projects focused on purchasing land in what was then Ottoman Palestine. The land purchases today total 18 percent percent of what is now the State of Israel. They are best known for their work in planting trees in Israel — over 240 million to date. Kriss showed one of the original "Blue Boxes" for which JNF is famous, the charity boxes or "pushke's" used for the past 100 years to raise funds. JNF's missions have since evolved into water recycling — JNF has supported the construction of 241 reservoirs, most in Israel's southern Negev region, and the network of purple water pipes that carry retreated water to the Negev. Israel reuses 82 percent of its water, higher than any other country in the world.
JNF's Miami-Dade Region conducted its kickoff event on Wednesday, Nov. 14 at the Jewish Museum of Florida and on Nov. 28 will be launching its newly created Lawyers for Israel group during a lunch for lawyers at the Carlton Fields firm in downtown Miami.
"We'd love to hear from people interested in helping or in attending these events," Kriss said.
He may be contacted at 305-789-9393.