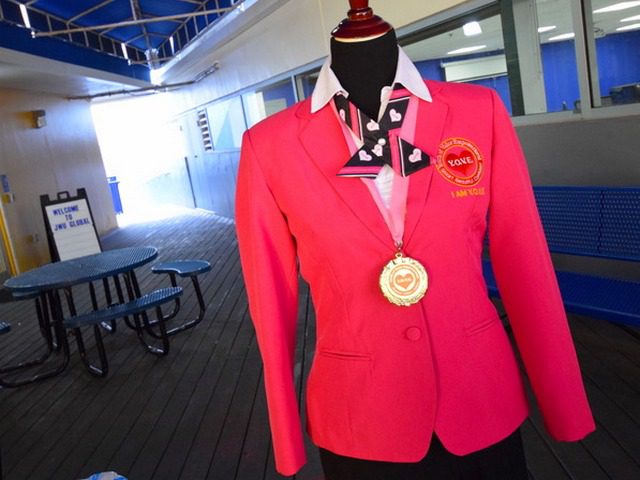 Ladies of Valor Empowerment (L.O.V.E.) partnered with Johnson & Wales University's North Miami Campus on Nov. 1 to host "Clothing Drive for a Cause," in support of underprivileged young women and teenage girls in the community seeking employment.
The event took place at the JWU North Miami Commuter Lounge & Boardwalk, located at 1701 NE 127 St.
"LOVE is gratified to partner with JWU to host this event for young women and teenage girls in our community who need a helping hand in matching their skills and abilities with professional attire," said Lady Alourdes Pierre, founder/CEO of LOVE.
"With the right look and presence, they will be better equipped to seek gainful employment with poise and confidence."
The joint clothing drive effort started soon after Pierre's organization relocated and reached out for support from JWU North Miami, one of their major collaborators in the community.
Upon visiting LOVE's Suited For Empowerment Boutique, Pierre said the team from the JWU was "immediately eager to join the movement" in search of young women's professional attire by issuing a call to action throughout the university to earmark donations. LOVE is a 501(c)3 nonprofit that provides business attire and image coaching (at no charge) to underprivileged young women seeking employment.
The clothing drive was spearheaded by the College of Business with the assistance of the JWU fashion club, FAB, in the areas of planning, marketing, and hosting the event on campus.
"The administration, staff, faculty, and students at The JWU North Miami Campus are pleased to plan and participate in the clothing drive in support of the LOVE organization and the community at-large," said Melodie Davis-Bundrage, PhD, chair of the College of Business at the JWU North Miami Campus.
"Preparing women and girls for job development and collegiate readiness is such an important cause and perfectly aligns with the mission of the university," she added.
"Clothing Drive for a Cause" focused on gathering professional women's wear, shirts, blouses, plain black jeans, and simple accessories.
LOVE hosts multiple events throughout the year to seek financial and in-kind donations to support its mission of preparing young women for advancement in professional careers, higher education, military service, and other civic and community service fields.