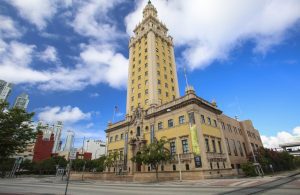 Miami Dade College (MDC) has been awarded a National Endowment for the Humanities (NEH) grant in the amount of $500,000 to help renovate its National Historic Landmark Freedom Tower located in the heart of Downtown Miami.
The grant is part of NEH's $28.1 million effort to support innovative projects that use digital tools and technology to further humanities research and increase the accessibility of public programs, cultural and archival materials, and educational resources for large audiences.
"We are extremely grateful to the National Endowment for the Humanities for this significant investment in the college and helping to preserve an important piece of Miami history," said Dr. Maryam Laguna Borrego, vice president for External Affairs and Strategy and chief of staff.
MDC's historic Freedom Tower houses the college's permanent special collections, including the Cuban Legacy Gallery, Exile Experience and Kislak Center. Completed in 1925, the Freedom Tower served as headquarters forThe Miami News, the city's leading newspaper at the time, and later became a symbol of freedom and democracy as a processing center for newly arrived Cuban refugees fleeing communism. Hundreds of thousands of Cuban refugees received financial assistance, food, medical care and other crucial resources to establish a new life in the U.S. at the Freedom Tower, coined the "Ellis Island of the South."
In 2005, the Freedom Tower was donated to MDC. Since then, it has hosted dozens of exhibitions and events featuring national and international artists, heads of state, dignitaries, scholars, renowned authors, actors, musicians and celebrities.
For more information, visit www.mdc.edu.
Miami Community Newspaper is an online newspaper that provides up-to-date local news and information about the Miami community. This daily newspaper provides local news coverage and keeps its readers up to date on the latest developments in the area. Their website also includes a Miami community podcast, where listeners can get the latest news and updates on the Miami community. Miami Community Newspapers is the perfect source for all your local Miami news needs, whether it is from their daily newspaper, podcasts, or other media sources.