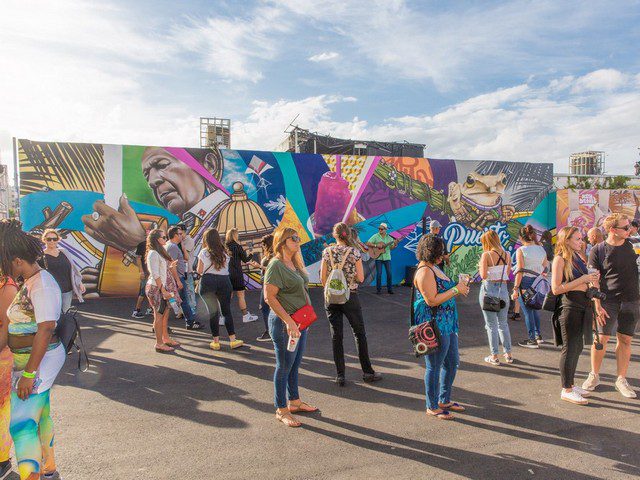 During Art Basel in early December, Puerto Rico unveiled a 50-foot mural in Wynwood, created by island natives Don Rimx and Carlitos Skills. The two blended their artistic styles in a collaboration that brought Puerto Rican traditions to life and left attendees in awe.
The reveal took place on Dec. 8 at Basel House, where Ramiro Malagon, a local guitarist who plays frequently with Ricky Martin, performed while spectators enjoyed rum infused piragüas (Puerto Rican shaved ice). The mural — a representation of the beauty and majesty of Puerto Rico — expressed the island has regained its strength and allure as a top travel destination.
This artistic venture is a direct portrayal of Puerto Rico's recovery this year. Puerto Rico was even named one of The 19 Best Places to Go in 2019 by Conde Nast Traveler.
About the artists:
David "Don Rimx" Sepulveda was born and raised in San Juan. Don has participated in national and international urban beautification projects including the Artists 4 Israel trip to Israel to paint the security fence, Urban Nation Berlin, Beck's Urban Canvas Miami, Ponce Es Ley Puerto Rico, Fiesta de Colores Ecuador and Beyond Walls Lynn Massachusetts. His individual style bridged the gap between the streets and corporate America. His work caught the eye of a progressive commercial real estate developer and was commissioned to produce several grand scale murals in the Bryant Park area of New York Cuty and in Oakland, CA.
Born in Bayamón, PR, Carlos A. Rivera (Carlitos Skills) completed a BFA with a minor in Digital Art and Design at the Escuela De Artes Plasticas in Puerto Rico. Carlitos Skills started out painting clothing. Inspired by street and pop culture, he later decided to bring his art into a larger scale and became a muralist. His aesthetic consists of mixing realism, geometry and semi-abstract patterns. Carlitos has left his mark on walls and skin in places like New York, Oakland, France and Colombia. In November 2018, Carlos Rivera opened his own gallery space, Skills Creative Studios, where he has worked with some of the world's most talented artists including Ahol Sniffs Glue, Sen2 and Don Rimx.