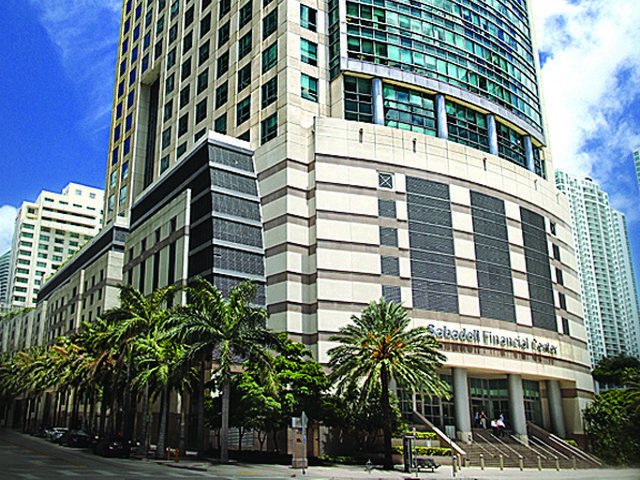 In the latest sign of new-tomarket tenant demand for premium Class A office space in Miami's urban core, the ownership of Sabadell Financial Center has leased 25,480 square feet of space to five tenants, including three companies new to the Miami market.
The building's newest users include national law firm Kelley Kronenberg (14,699 sf); ABS Holdings (4,040 sf), and oil refinery company Metals Inc. (1,466 sf). Additionally, insurance brokerage Howden (3,336 sf) and financial services firm Canepa (1,939 sf) renewed leases at the 30-story building, located at 1111 Brickell Ave. in the heart of the Brickell Financial District. Financial terms of the agreements were not disclosed.
Tere Blanca, Danet Linares, Juan Ruiz of Blanca Commercial Real Estate, exclusive leasing agent for Sabadell Financial Center, represented the building's ownership in the transactions. Shay Pope of CBRE and Brad Chrischilles of CNL Commercial Real Estate represented Kelley Kronenberg; Rashid Siahpoosh of NGKF represented ABS Holdings, and Pedro Hernandez of Engel & Völkers represented Metals Inc.
"This latest string of new-to-market leases is more evidence of Brickell Avenue's growing appeal among domestic and multinational companies that want to do business in the U.S., South Florida and Latin America," said Tere Blanca, president and CEO of Blanca Commercial Real Estate. "Once a prospective tenant targets the Brickell submarket, 1111 Brickell Ave. stands out for its central location, convenient access, and unique amenities including tenant concierge services."
The news of Sabadell Financial Center's newest tenants continues a steady flow of leasing activity at the building, with nearly 24,000 square feet of transactions completed in the first quarter of 2015 and about 50,000 square feet completed year to date. Sabadell Financial Center is home to some of Miami's most prominent companies including Sabadell United Bank, Telefonica USA, Ferragamo, Regus, and the law firms of Hunton & Williams and Baker & McKenzie.
Beyond its prime location between Miami's Brickell Avenue and Brickell Bay Drive, Sabadell Financial Center also offers tenants a direct connection to the adjacent JW Marriott Miami, which provides access to hotel facilities including a state-of-the-art fitness center, several restaurants, and event space.
"In Miami's competitive office market, Class A amenities and white glove service for tenants set Sabadell Financial Center apart," said Juan Ruiz, executive vice president of Blanca Commercial Real Estate. "Add the building's location between Brickell Avenue and Brickell Bay Drive and its proximity to numerous top hotels, restaurants and retail shops, and it's no wonder why Sabadell Financial Center continues to attract and retain quality tenants."
Tenants of Sabadell Financial Center enjoy five-star on-site property management services, with premium amenities including a Bull & Bear News and Sundry Shop; dining at the Intermezzo Café; a 1,100-space parking garage; as well as a dry cleaner; bank branch and ATM. A personal concierge is available to provide tenants with recommendations and reservations to Miami's finest restaurants, hotels and spas, complimentary airport shuttle service, taxi reservations, as well as local tour and attraction recommendations.
The LEED Gold certified office tower recently was awarded BOMA Miami- Dade's 2015 TOBY (The Outstanding Building of the Year) Earth Award, which recognizes environmentally sound office buildings with management practices that efficiently implement and enhance green and sustainable programs.
For leasing opportunities, contact Tere Blanca, Danet Linares or Juan Ruiz of Blanca Commercial Real Estate at 305- 577-8850.