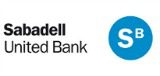 On June 24, 2015, the Spain – US Chamber of Commerce hosted the "Ponce de León" Excellence Awards. Sabadell was honored with the "Ponce de Leon" Business Excellence Award in recognition of outstanding achievements, contribution to employment, and economic growth in both countries, Spain and the United States.
"I am proud to recognize these relevant companies showing interest and for the continued success that the Spanish and American companies are achieving in both countries," said Chairman of the Spain – US Chamber of Commerce.
"We are humbled and thankful for the recognition given to us by the Spain – US Chamber of Commerce, its board of directors and esteemed partners." said Fernando Pérez-Hickman, Chairman of the Board of Sabadell United Bank and Managing Director of Sabadell Americas.
Banco Sabadell is a global banking institution founded in 1881 and is Spain's fifth largest banking group. Banco Sabadell covers all areas of the financial business sector under a common denominator: professional performance and quality. Sabadell's Florida operations include Sabadell United Bank's 40 year history in South Florida as a locally managed banking institution, including its wealth management division, Sabadell Bank & Trust, and Banco Sabadell – Miami Branch, an international branch of its parent company, Banco Sabadell.  Sabadell currently manages nearly $15 billion of business volume in Florida. Sabadell has grown its presence in Florida over twelvefold in terms of business volume, since 2007, and its personnel from 60 employees to over 700 in 2015.
For more information about Sabadell United Bank or to contact a Sabadell representative, visit www.SabadellBank.com