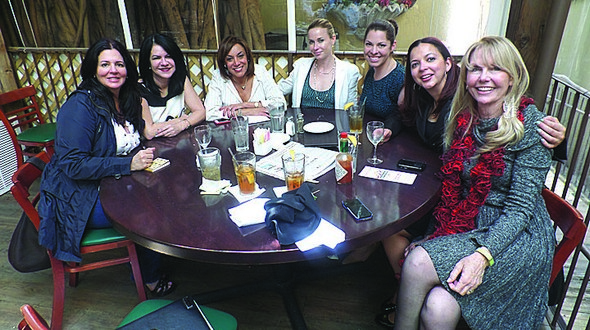 The folks at Shell Lumber and Hardware, president and CEO Jesus Guzman and his team, once again hosted a fun night of art, food and live entertainment at their location on SW 27th Avenue.
The crowd had a great time enjoying the Solar Dogs Band on a beautiful evening. Best of all, proceeds from the affair will benefit Shake-A-Leg organization in Coconut Grove. SAL's many programs revolve mostly around sailing for individuals with special needs but include much more.
Shell Lumber and Hardware has been a long time supporter of this charity and so many others in the community. They are to be congratulated for their ongoing efforts to make a positive change by stepping up once again to help a worthy charity.
On the medical scene, North Shore Medical Center held a ribbon cutting for its new Senior ER. These beautiful new patient rooms offer a safer, warmer ER experience with a design sensitive to the needs of the aging from special non-slip flooring, large faced clocks, lighting that not only simulates a beautiful outdoor view but the sky above as well.
Renovating this space was especially challenging for Dr. Carlos Sanchez and Cindy Gill, but was well worth it. Among the many attending the event and welcomed by Manny Linares, CEO of North Shore Medical Center, was Miami Shores Village Mayor Herta Holly.
The District Federation of Women's Club held a "Star Studded" fashion show at Jungle Island on Mar. 22. Dressing up as various pop culture and historical women, models chosen from clubs in the district brought down the house with their show titled "Stars of Miami."
Especially memorable for this writer were "Dinah Shore" and "Cher," among a handful that actually performed live with no rehearsal. All in all it was a great afternoon to benefit scholarships for UM medical students. Dade Federation of Women's Club president Charlyne Carruth expressed her thanks to the Fiesta Luncheon Committee chair Ann McAllister; Auction chair Heike Leibkuchler; Club Contest chair Mary Cross; Decorations chair Linda Hartwell; ticket chair Nan Simon; fashion coordinator Sheffield MacIntrye; Programs and Vintage Show chair Dolly MacIntyre, and Treasure Chest chair Ruth Perry.
In other club news, the GFWC Coral Gables Woman's Club, which just came of a major fundraiser for their children's dental clinic and two weeks later were raising funds once again for two additional charities: NPH USA and Relay for Life Cancer Walk. Seasons 52 generously hosted an after hours that raised more than $700 to be split between the two charitable groups. More than 35 guests enjoyed wine, beer and Seasons 52's famous flatbreads while taking chances on numerous raffle prizes and meeting new people.
NHP's Kristy Fueyo and this writer, both CGWC members, were delighted with the generous support of so many club members, Rotarians, friends and especially Denise Erwin, of Seasons 52, who is a philanthropist in her own right supporting events for Charity Water and Global Medical Brigade. By the way, Seasons 52 Flights and Flatbreads are now being offered throughout the day and evening.
NPH USA's outreach to the South Florida Community to support its many orphanages has brought together some great organizations and people. Most recently, local businesswomen from the Domincan Republic met with NPH's Leah Stern and Kristy Fueyo to discuss a trip to the orphanage in their homeland with a lunch at Perricone's.
Until next time, keep making each day count.
If you want to submit information for this column, send your news via email to gloriagalburns@aol.com.