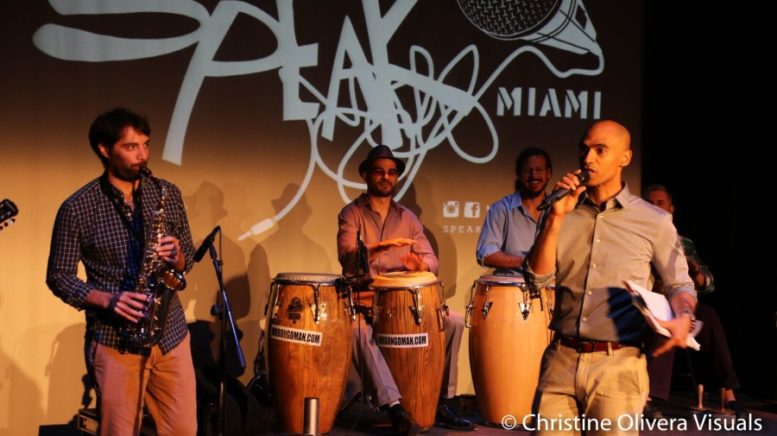 For the past ten years Speakfridays has been a bastion for independent performing arts, a place where lovers of poetry, live music, comedy, storytelling, short plays and other acts best suited for the stage have convened to celebrate imagination and inventiveness.
The now-monthly variety show began humbly as an open mic night for poetry in a warehouse in the Bird Road Art District. That is how Speakfridays show-runner Robert Lee first encountered it a decade ago. A former nightclub DJ who now spends his days working in the financial sector, Lee happened upon the show one evening and was inspired by the performances he saw. He volunteered to DJ the event, but after a few shows he learned that the person in charge was no longer interested in continuing with the show. He then made a decision that changed his own life and the complexion of Miami's art scene for the better.
"I thought it was something the community needed, some type of voice and platform where people could freely go and express themselves," Lee said. "So I took it upon myself to continue these poetry-specific events in South Miami."
As time passed, Lee integrated other art forms into the show, which became a hybridization of music, drama, poetry and stand-up comedy. Though difficult to classify and advertise at the time, the diversity and unpredictability promised with each set of performances attracted audiences in increasing numbers.
To accommodate growing attendance and improve quality of production, Lee relocated Speakfridays to Wynwood's Light Box Theatre last year after a brief stop at the nearby Bakehouse Art Complex.
"It was making a jump from us doing all the production work ourselves into a proper theater space that is designed and set up with all the bells and whistles," he said. "The Wynwood area has really embraced us. It's a very high-visibility, talent-rich, art-centric environment and we're really enjoying the benefits of all of the above."
The show generally adheres to a standard format, beginning at 9 p.m. with a social mixer with live DJ music, concessions provided by Mad Chiller and food served by food trucks such as Latin Burger. At around 9:30, Lee takes to the stage to welcome everyone, explain the show and its format and introduce the night's performers. From there, an open mic commences and runs for about an hour. This is followed by booked acts, established artists from Miami or traveling performers. The night culminates in a featured entertainer, usually a band or comedian, who performs for half an hour.
In an unorthodox feature Lee describes as "Oprah Winfrey meets America's Got Talent meets raw expression," audiences are encouraged to engage in a dialogue with many of the night's performers. There is also an added graphical component while the show is taking place; three different visual artists create pieces in different mediums, often doing portraits of crowd members or representations of the show itself.
"One of two things happens when you attend a show," he said. "You're either going to instantly be a fan and a supporter or you're never going to come back. Thankfully it's been more fans and supporters than people who just don't get it."
Throughout its tenure in South Florida, Speakfridays has continued to attract attention and attendance from national and international performers, including spoken-word artists from HBO Def Poetry and Brave New Voices. Their most recent entertainer of note was none other than comedy and film star Kevin Hart, who filmed his latest comedy special, Heart of the City, on the Speakfridays stage.
"We're falling on the right radar screens now and as a result of that there is a lot more work down the pipeline, a lot more calls coming in," said Lee. "We're really energized and excited about the direction and traction we've picked up. It started out very grassroots and it's still a grassroots effort. I'm really inspired by how far we've come and the people who have come all this way with us."
Speakfridays takes place on the last Friday of every month at the Light Box Theatre at Goldman Warehouse – 404 NW 206th St. Cover charge is $5 for performers and $10 for audience members. On Friday, May 27th Speak will be celebrating its 10th year anniversary with a diverse mix of open mic and special performances by Stef Silva, Jamal Hattar, Bad Apples Brass Band and many more. For more information, email <Speakfridays@gmail.com> or search "Speakfridays" on various social media.