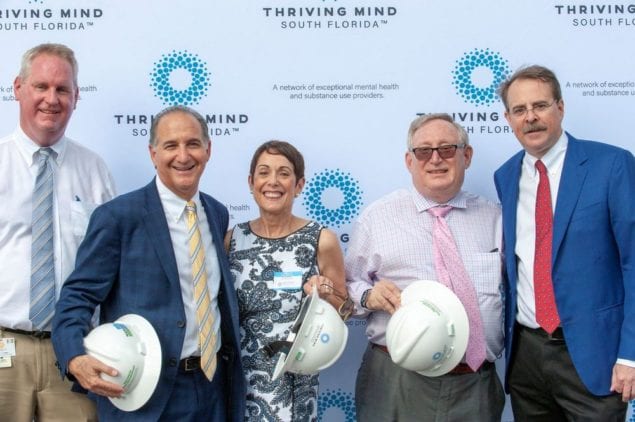 Mental health and recovery for afflicted individuals in Miami-Dade County recently took a giant leap forward, when representatives of Thriving Mind South Florida, along with state and local officials, "broke ground" on the renovation of a facility that will treat residents with mental illness who are diverted from the criminal justice system into treatment.
Thriving Mind South Florida (contracting as South Florida Behavioral Health Network Inc) is a nonprofit organization supported by Florida's Department of Children and Families that funds prevention and treatment services for serious mental illness and substance use disorders for the uninsured population of Miami-Dade and Monroe counties.
Spearheaded by Thriving Mind South Florida, the new $40 million, 180,000-square-foot, 208-bed facility is a collaboration with Miami Dade County, the Eleventh Judicial Circuit Criminal Mental Health Project (CMHP), and the Miami-Dade Corrections and Rehabilitation Department (MDCR). The new facility will offer a comprehensive range of mental health, substance use and primary healthcare services targeting high-cost, high-need individuals within the public health system.
"Today is a tremendously meaningful day for our community in South Florida," said John W. Newcomer, MD, president and CEO of Thriving Mind South Florida. "This new facility will allow us to increase access to care and drive excellence in services for mental health and substance use disorders."
Renovations to the building, located at 2200 NW Seventh Ave., will begin immediately with a goal of opening by late 2020.
Joining Newcomer at the event were a host of city, county and state officials who lauded the innovative project. In addition to Florida Lt. Gov. Jeanette Nuñez, others attending the ceremony included Carlos A. Gimenez, Miami-Dade County Mayor; Audrey M. Edmonson, chair of the Miami-Dade County Commission; Sally A. Heyman, Miami-Dade County Commissioner; Willy Gort, City of Miami Commissioner; Judge Jeri Cohen, Miami-Dade County Court, and Judge Steven Leifman, Miami-Dade County Circuit Court, who led the effort to bring this project to Miami.
The facility will include space for core treatment services and also provide employment training, educational services, and housing assistance. In addition, the center will support research, education, and training to improve access to services and quality of care across the community. The goal is to ensure that individuals with serious mental illnesses and substance use disorders in Miami-Dade County receive effective community-based care that reduces demand for more costly services in acute care and institutional settings like emergency rooms, jails and hospitals.
Following the groundbreaking, a mental health and substance use roundtable discussion was hosted by Thriving Mind South Florida, with distinguished guest Lt. Gov. Nuñez. Discussions covered access to mental health services, public safety, housing and public health. The roundtable was held at nearby Camillus House in the Bank of America Community Room at the Knight Foundation Building.
For additional information, visit www.thrivingmind.org.