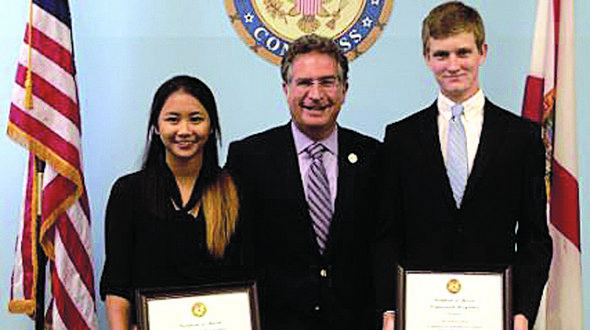 U.S. Rep. Joe Garcia recently hosted a ceremony in his district office honoring two local students, Frederick Albion and Victoria Cambe, who were appointed to the U.S. Military Academy at West Point and the U.S. Naval Academy at Annapolis, respectively.
Victoria and Frederick were the only two students from District 26 selected for this prestigious honor.
"It is an honor to be able to say two students from my district will be representing our community at their respective service academies," Rep. Garcia said. "I have no doubt both Victoria and Frederick will excel in all they do and will make District 26, and the rest of South Florida, proud."
Cambe, a student at Terra Environmental Research Institute and aspiring U.S. Naval aeronautical engineer will attend the Naval Academy starting in the fall.
"I come from a Navy family so I wanted to carry on the family tradition. I thought the best way to do this is to attend the Naval Academy. My dream and goal is to graduate as an Aerospace Engineer and work for NASA," Cambe stated.
Albion, a Miami native, MAST Academy student and tennis all-star, has been appointed to the United States Military Academy at West Point.
He explained his aspirations in joining the military.
"My goal is to learn the necessary skills to become a military officer and outstanding role model, achieving academic excellence, utilizing skills to motivate others, working toward an extreme fitness level and maintaining it, and serving my country with duty and honor."
Both the U.S. Military and Naval academies are long-standing, prestigious institutions of higher education preparing young men and women to become professional officers of competence, character, and compassion. Acceptance into these institutions is incredibly competitive and takes Congressional nomination to be considered.