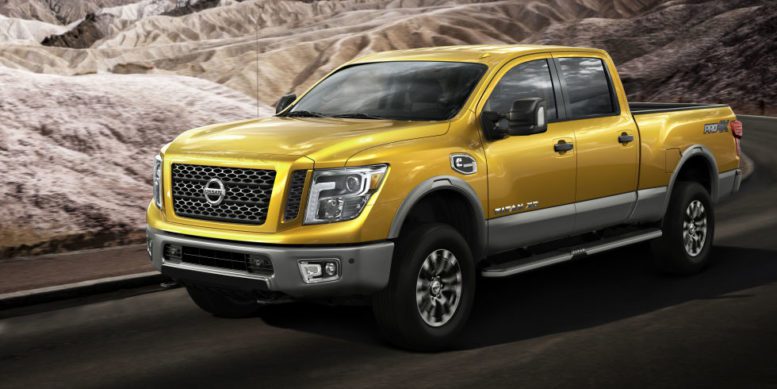 When considering a work-worthy pickup truck, Nissan is most likely not the first brand that will come to mind. However, the 2016 Nissan Titan XD is making waves within the light-duty pickup segment — its eye-catching design coupled with its extra strength capability.
While the Titan has had a rough past, being one of the lowest-selling half-ton pickups on the market, it is revamped for 2016 and sure to please its harshest critics.
At first glance, one of the things you will notice about the 2016 Nissan Titan XD is its unique design. Its large shining grille, 18-inch black rims and big, bold headlights set it apart from other pickups.
Another aspect of the 2016 Nissan Titan XD that is worth noting is its target market. The Titan XD is a half-ton pickup with about 2,091 pounds of hauling capacity. Which is perfect for those who don't want to go larger than the half-ton segment but would still need to haul a decent amount. 
Additionally, the Titan XD comes with several handy technological functions such as an integrated trailer-brake controller, downhill speed control and trailer sway control.  Nissan also integrated clever features into the Titan's cargo bed. It now comes with locked storage boxes, Utili-track tie-down system, LED lighting throughout and a 120-volt power outlet.
Another great feature of the 2016 Titan XD is its interior, which boasts soft, high-quality materials with contrast stitching and understated chrome accents throughout. The interior design, which rivals that of many pickups, is similar to that of the exterior in that it is big bulky and undoubtedly masculine. In the Pro-4X trim, which is what I tested, the features include: heated and cooled front seats (cooled seats come in very handy in a leather interior when you live in South Florida!), push to start button, laptop storage in the center console, trailer break controller, the Follow Me Home function and stain-resistant seat covering.
As far as its engine, the 2016 Nissan Titan XD continues to be a crowdpleaser with its V8 Turbo Diesel Cummins engine. The V8 produces an impressive 555 pound-feet of torque and 310 horse power. You will get about 18 mpg combined city and highway with the Titan. The Titan also is a very capable ride.
Unlike many heavy-duty haulers, the 2016 Titan is a smooth and comfortable ride at highway speeds even without cargo weight to hold it down. This can be attributed to Nissan's heavy chassis design which has been, evidently, perfected.
The 2016 Nissan Titan has honed in on its perfect market. For those who want a half-ton capable pickup, the Titan has all your needs. Nissan has designed this year's Titan with the working man in mind, adding tech-savvy features that make life easier such as those added to the cargo bed. Its new features, coupled with its strong engine, appealing interior and great towing capacity are sure to satisfy anyone who is looking for a half-ton pickup as well as the critics who initially questioned the Titan's place in the market.
The MSRP for the 2016 Nissan Titan XD starts at $40,290.