MiamiCentral, the expansive downtown development featuring retail, office, residences and the Brightline train service, recently announced a delicious new addition to its carefully curated food and beverage program. 800 Degrees Pizza, the Los Angeles-based and
Italian-inspired restaurant, will launch multiple locations throughout Southern Florida, the first of which will open in Central Fare.
Central Fare, a 50,000-square-foot marketplace anchored by signature restaurant Monger by the Voltaggio Brothers, along with several other Miami restaurateurs, will be a notable aspect of the 11-acre, mixed-use transportation hub that will house the new Brightline express train connecting Miami, Fort Lauderdale, West Palm Beach and Orlando. The project is scheduled to open spring 2017.
"With locations in Los Angeles, Las Vegas, Tokyo and Dubai, 800 Degrees Pizzeria attracts an array of patrons who share a discerning appetite for high-quality food that isn't compromised by great value," said David McIntyre, senior vice president of hospitality operations for MiamiCentral and Brightline.
"Central Fare is well positioned to become an integral part of Miami's culinary scene and we are pleased to welcome 800 Degrees to our growing group of talented restaurateurs."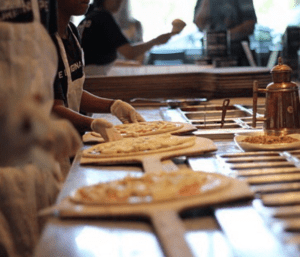 800 Degrees Pizza is an authentic Neapolitan-style pizzeria serving top-quality, chef-driven offerings with an Italian heart and American soul. Creator and founder Chef Anthony Carron, formerly of the Michael Mina Group, brings more than 20 years of culinary leadership and experience to the project, and honors the heritage of Old World Italian tradition where the integrity of ingredients is paramount. As a result, Carron has traveled all over Italy in search of the best purveyors, producers and farmers to source his meats, vegetables and bread.
"Commitment to quality is the brand hallmark, from the culinary offerings to the impeccable interior design and a friendly, efficient staff," Carron said. "Since its debut in Los Angeles in 2012, 800 Degrees has set new standards for elevated casual dining, serving handcrafted pizzas fast without compromising flavor, quality or integrity."
800 Degrees' specialty pizzas are artfully created to highlight a wide spectrum of flavor profiles, ranging from butternut squash, caramelized onions and bacon to fresh clams with pecorino and garlic. Through the assembly line set up, customers are encouraged to design their own pizzas or select from a menu of specialty pies created by Chef Anthony Carron. Pricing begins at $9 for a 12-inch pizza with additional toppings added for $1 each.
800 Degrees serves traditional Neapolitan-style pizza which has a soft, chewy crust. Customers have the option of requesting a crispy crust or a gluten free crust if they prefer.
Apart from Neapolitan-style pizza, 800 Degrees also offers a selection of fresh, made-to-order salads, a variety of hot and cold bites, wood oven-baked sandwiches, a Burrata menu, as well as organic, artisanal gelato. All 800 Degrees locations serve a selection of premium beer and wine including offerings imported from Italy.
Central Fare is South Florida's first urban, artisan market. This dynamic destination will offer authentically crafted culinary experiences — featuring celebrity chefs Bryan and Michael Voltaggio, Richard Hales of Blackbrick Chinese; and Andres Barrientos and James Bowers of Miami Smokers, among others. Opening in late summer 2017, Central Fare will encompass approximately 50,000 square feet on the first and second levels of MiamiCentral. Featuring six restaurants and more than 20 food and retail purveyors, Central Fare and Monger by the Voltaggio Brothers have been designed by award-winning global hospitality design and concept firm, AvroKO.
A new website has been created and launched for Central Fare to include all of the latest culinary offerings and provide more in-depth information on the purveyors. For the latest, visit www.CentralFare.com.