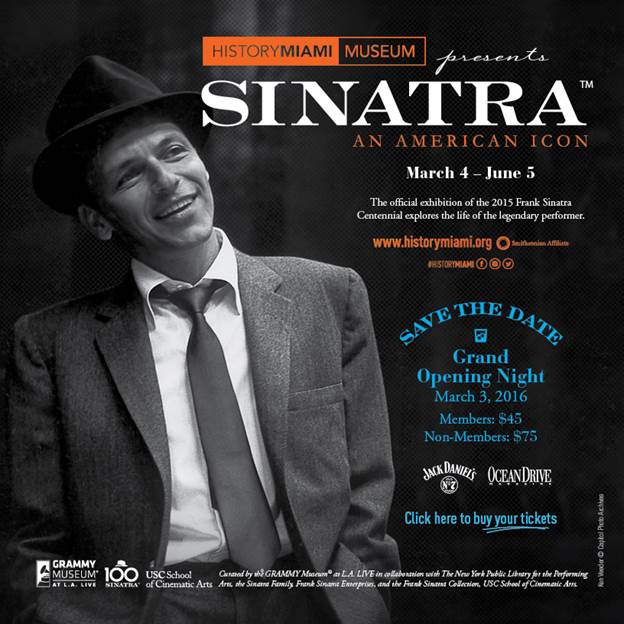 South Florida Sinatra lovers have a rare chance to see "Sinatra: An Americam Icon" in HistoryMiami Museum's Special Exhibits Gallery on the second floor from Mar. 4 to June 5.
The exhibition, which has only been in New York and LA, will present the exceptional multi-media experience exploring the life of Sinatra. Curated by the Grammy Museum in Los Angeles, the exhibit combines never-before-seen photos, family mementos, rare correspondence, personal items, artwork, and, of course, music, to offer a look into Sinatra's legacy.
HistoryMiami, 101 W. Flagler St., also will display a special section that highlights Frank Sinatra's connections to the South Florida area. During the mid-20th Century, Sinatra not only performed at local venues, but also shot several movies and television programs in location in the region, including at the famed Fontainebleau Hotel. On view will be concert programs, movie and television memorabilia, and other items that tell Sinatra's story.
As the official exhibit of the 2015 Frank Sinatra Centennial, "Sinatra: An American Icon" traces 100 years of Sinatra legacy from Hoboken, NJ, through superstardom, chronicling the meteoric rise of his music career, his Hollywood success, personal life, and humanitarian work. Most of the pieces have never been on public display before.
This exhibit not only celebrates Sinatra's music legacy, but gives visitors a unique glimpse of what it was like to personally know the man behind "The Voice." Sinatra's story is told through items of his clothing, including his signature fedora and tuxedo, original paintings by Sinatra, and golf clubs, to name a few.
Other items on display include:
• Numerous awards including Sinatra's Grammy Award for Album of the Year, 1965; Academy Award, 1945, and Golden Globe Award, 1953;
• Revealing personal family photos, behind-the-scenes studio images, and Herman Leonard's classic photographs of Sinatra;
• Archival video and audio recordings from Sinatra's many TV and radio appearances, and
• Recording of one of Sinatra's recording sessions.