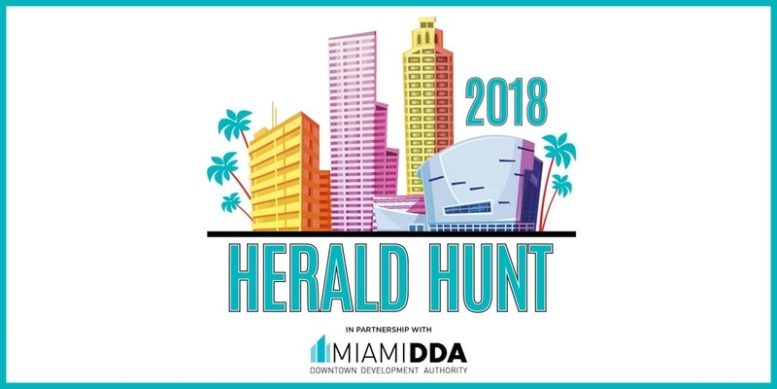 After a six-year hiatus, the Hunt kicks off once again at noon on March 4, 2018 at Downtown Miami's Museum Park (formerly Bicentennial Park).  This year's Herald Hunt, the 21st time the event has been held, is sponsored by the Downtown Miami DDA.   This year's Hunt theme is "Clueless in Downtown Miami," poking fun at all things artsy, and of course, Miami.
One of South Florida's favorite events since its inception in 1984, the Herald Hunt is a unique urban adventure in which, over the course of one memorable afternoon, players attempt to solve a series of bizarre clues.  Admission is free. The first three teams to finish the Hunt will win great prizes.  But as most seasoned Hunters know, you don't go for the prize; you go for the thrill of actually solving the puzzles.  The "Ah ha!" moment of coming up with the solution is a rush unlike any other.
The geniuses behind the Hunt are, as always, Dave Barry, the Miami Herald's Pulitzer Prize-winning, nationally syndicated humor columnist and best-selling author; and Tom Shroder, formerly executive editor of the Miami Herald's Sunday magazine, Tropic. Together, Barry and Shroder have spent months conjuring up devious clues that inevitably confound players, including many that fly in to Miami just for the occasion.
To register, click here!