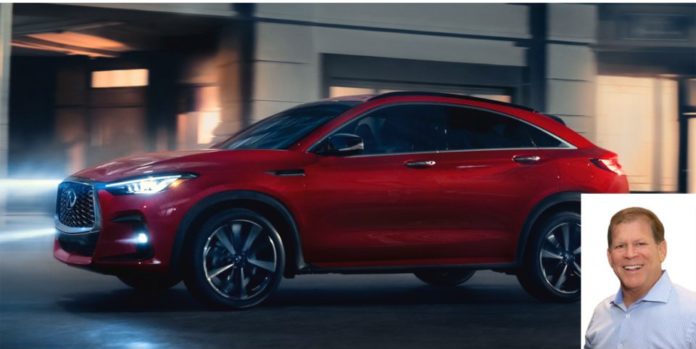 The 2022 Infiniti QX55 Sensory AWD is a great vehicle for families.
Pricing for the fastback 2022 Infiniti QX55 starts at $46,500. I like the feeling of luxury when you get behind the wheel and everything important is convenient and the technology is sharp. Jump up to the top level trim, the Sensory AWD, and you will pay more than $57,000 for lots of bells and whistles including ambient lighting and a great leather-feel to the seats.
The 2022 Infiniti QX55 is fast and powerful, riding on a turbocharged 2.0-liter engine with four cylinders that delivers 28 miles per gallon on the highway and 22 miles per gallon in the city. From this the 2022 Infiniti QX55 produces 268-horsepower and 280 pound-feet of torque.
The dramatic silhouette is a call back to the iconic Infiniti FX, bringing together styling with a bold, powerful stance. The large grille with the large Infiniti branding gives this vehicle a sense of design reminiscent of the old school high quality engineering that has been brought forward to produce a new type of SUV.
I really like the attention to detail including the design of the "piano key" taillamps, which make the 2022 Infiniti QX55 distinct and the rims are sporty and solid. The 20-inch wheels are standard, playing into the size and presence of this SUV.
For the interior, Infiniti put together a package of materials that feel great to the touch and that look great, too. Run your hands across the seats and you feel like a million bucks, like no expense was spared to make this vehicle. The interior colors include "monaco red", graphite and stone, which provide nice contrast and styling.
The technology includes an 8-inch upper screen and a 7-inch lower screen, with Apple CarPlay and Android Auto as standard features. The Bose sound system is crystal clear for podcasts and music, making everything you listen to sound like the best thing you have heard.
I like the detailing on the doors, which is an extension of the seats. Everything feels clean and consistent and fun to look at while driving. The two-tone upholstery gives it a sporty feel that communicates the adventure you are about to have while you are getting to your destination.
The five-seat interior is handsome and roomy. Looking up you get a great view of the sky and the clouds from the standard moonroof.
The safety features include ProPILOT assist including a suite of technology that reduces stress, fatigue on long highway drives and features that make accelerating, braking and staying in your lane easier.
The 2022 Infiniti QX55 Sensory AWD is one of my favorites of the year and it might be yours, too. Give it a drive and let me know what you think when you take it home.