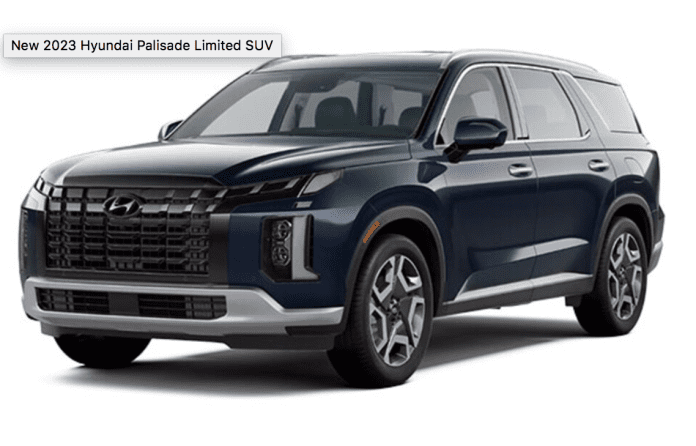 The 2023 Hyundai Palisade Calligraphy starts at $49,850 and is worth the drive. It's a boxy SUV, but still has enough curves to look sleek and modern.
Hyundai's big, luxury SUV delivers 19 miles per gallon in the city and 25 miles per gallon on the highway for the all-wheel-drive model. This is particularly remarkable because it's a huge vehicle and it has great performance. This is all achieved on a 291 horsepower, 3.8-liter V6 engine, which gets great ratings from Kelley Blue Book. It comes through an 8-speed transmission.
Its towing capacity is also pretty fantastic at 5,000 pounds.
From the front facia to the rear of this vehicle it looks tough. The front end has a chrome-finish that is unique to the Palisade Calligraphy. The LED running lights are vertical and look cleaner than in the past.
Hyundai went all out to incorporate cool features and here is one of my favorites: There is a feature on the key fob that allows the SUV to park itself, without a driver. I've seen this feature on other cars, but with an SUV of its size, the 2023 Hyundai Palisade Calligraphy makes it look all the more impressive, especially in the types of small spaces you find in public garages.
As with most cars these days, the lights are LED, but continue to provide the type of power that you have come to expect from traditional lights when driving in the rain and especially at night. So it's both modern and effective, which makes it a great feature.
On the inside, I like a couple of details that were really impressive. The 12.3-inch infotainment system lets you easily see all the important information that makes driving fun like maps and music. I really enjoy being able to access all the great sounds and a variety of customizable tunings through a system that makes every detail sound crisp.
The 2023 Hyundai Palisade Calligraphy also has a second screen of gauges in front of the driver that provides information on everything from the speed limit to whether there are school zones in the area. All this information is provided in the heads up display, making it convenient and essential, once you get used to it.
The technology in the vehicle is so advanced that it will also flag you if you are idle at a light that has changed. As you know, in Florida you can read through your social media at a light, but not while driving, so make sure to keep your eyes on the road.
This being the biggest SUV that Hyundai makes, driving is exciting. And take note – this is a three-row SUV, which feels like it can carry your family or soccer team in comfort with plenty of room for the equipment, too.
I really enjoyed driving the 2023 Hyundai Palisade Calligraphy and you will too.